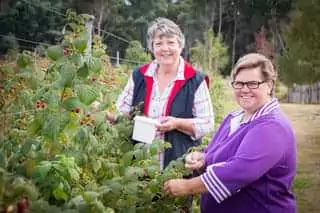 In 2017, best friends Susan and Narelle relocated from Newcastle NSW to a picturesque berry farm they had purchased the year before in Bridgenorth, just outside Launceston. Susan, an RN, had worked for many years as a Practice Nurse and Narelle, who is a Cabinet Maker, had been a TAFE Trade teacher. While having experience in administration and running small businesses previously, both admit to a steep learning curve as they took on a tired berry farm that needed much work and maintenance at first. Both have since done horticultural studies at TasTAFE and love a good chat with other experienced folk and learning from them. They now feel confident they have a good basis to grow the business and have opened their shed door to 'pick your own' customers and are pursuing avenues for value-added products for their berries.
The Farm
Bridgenorth Berries sits on 37 acres with approximately 10 acres under berry canes. The harvest season is staggered with boysenberries being the main crop and having the largest yield, along with a small crop of loganberries.
Next the raspberries and thornless blackberries are ready, with youngberries to be picked in the middle, just when you think you can have a rest for a few weeks! The farm also has an orchard containing various fruit trees, black and red currants and jostaberries and if the pet sheep don't escape and eat them first – a small yield of strawberries.
Two dams help irrigate the property, which currently has a fallow 3 acre field with infrastructure present to suit berries or grape vines, and is waiting for inspiration and ideas on how to be utilised. The ladies use a 'spray free' approach to their farming and yields are improving each year.