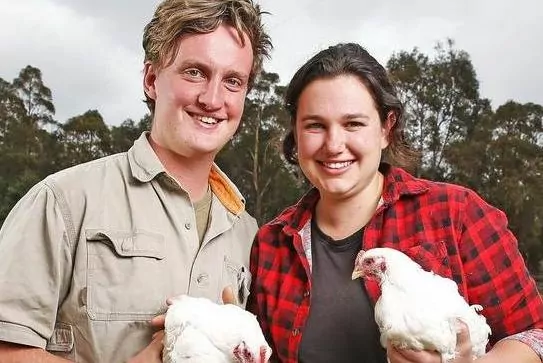 The day-to-day operations of Broadchurch Farm were run by a couple of young farmers, Calum and Samara. Their passion for sustainability and local food systems shone through everything they did. Not coming from a farming background they taught themselves from the ground-up, learning mainly from books, other farmers, the internet and many mistakes. They tended their market garden following organic principles, began their pastured meat chicken business from nothing, and very quickly started supplying the State's top restaurants and butchers.
On top of all this Calum and Samara found time to milk their house cow, make cheese, bake bread and ferment their own produce. Sadly for Tasmania, in 2020, following the first Covid lockdown, Calum and Samara decided to move on from Broadchurch Farm in search of a new adventure. However, in their own words 'this is not a forever decision, we have found our passion in farming and want to come back to the land at some point in the future'. Farming is part of them now, and we know that whatever they do, and wherever they go, they will always be advocating for stronger, more localised food systems.
The Farm
Broadchurch Farm was started in 2017 as a small scale regenerative farm in Broadmarsh. The farm consisted of 90 acres of mixed bush and pasture situated on the side of Mount Dromedary, and on this land a market garden was first established, before becoming the home to a pastured small scale commercial meat chicken enterprise. Their chicken would later be selected as a State Winner for the Delicious Good Food Awards. On top of all this, at various points between 2017 and 2020, Broadchurch also farmed beef cattle, pastured pork, grass-fed lamb and chickens for eggs!