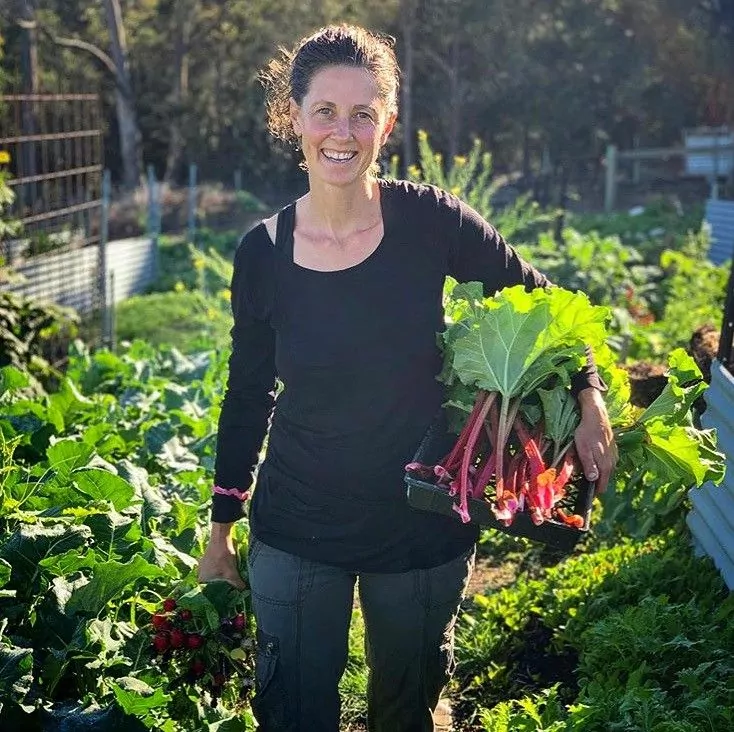 Jo Smith is the brains, heart, soul and dirty hands behind Bruny Island Market garden. She is also a holistic health, wellness and natural living coach, yoga instructor, and combines market garden with her other business, Naturally Well With Jo.
Jo's garden was initially started to feed herself, her husband Andrew and their twins Essie and Banjo, but quickly morphed into something much larger. She began offering vegetables for sale locally through veg boxes and at their farm gate. Her passion for feeding the Bruny community is unrelenting, and in her own words:
"To provide our local community here on Bruny Island with seasonal food that is grown 100 percent organic on a small scale farm, and for them to come into this space and to connect with their food, I think it's just magic. It's beautiful,".
The Farm
Bruny Island Market Garden is a beautiful, permaculture inspired, organic market garden on a 10 acre farm on Bruny Island, Tasmania that supplies organically grown and seasonal vegetables to the local community, restaurants and anyone who visits the island.
Her garden is all organic, no-till, and utilises worm castings, compost teas and homemade seaweed fertilisers. With initially poor soils, relatively low rainfall and notorious winds she has created an incredibly lush oasis, and in 2021 she purchased and installed a large greenhouse to help produce and nurture the summer crops that often struggled in the open on Bruny.
As well as producing vegetables and fruit the farm is home to a flock of chickens, with eggs being sold at a local restaurant and also at the farm gate, a marauding flock of geese, and now to a couple of pigs.
The farm is also a holistic wellbeing space, hosting workshops and events with an emphasis on holistic, spiritual, sustainable and natural approaches to life and self.