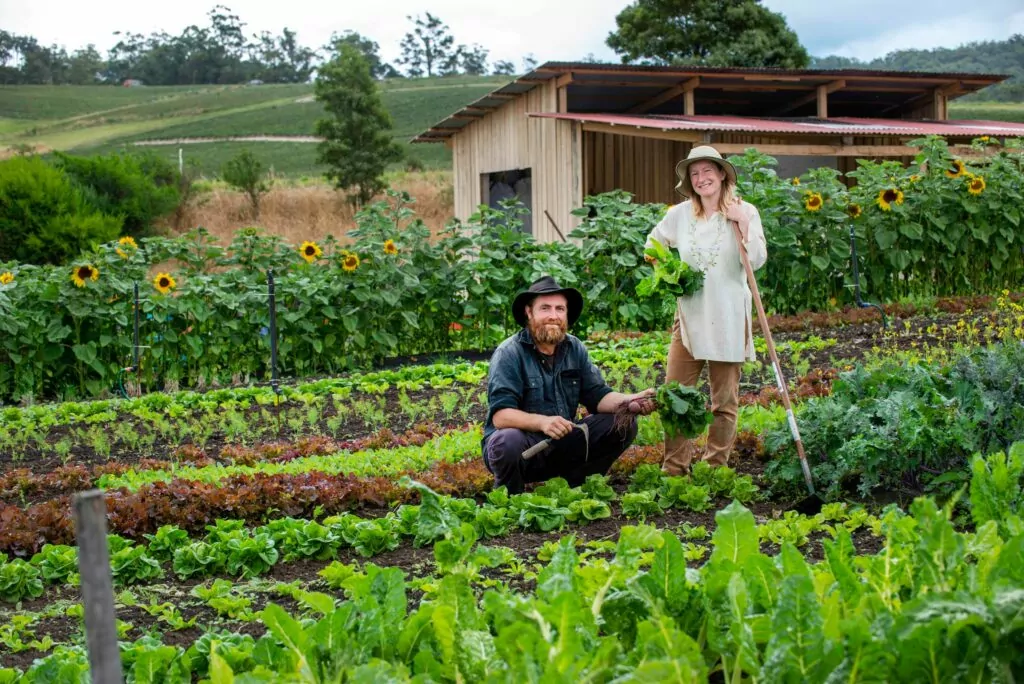 Growing up Zeb's father was a keen gardener and even though the family moved a lot in his early years with a long ancestry of gardeners his father did what he knew best and couldn't resist setting up a garden in every new home. With a bookshelf full of permaculture books, chooks in the paddocks, goats to be milked and carrots to be munched on Zeb learnt the value of self-sufficiency. At the age of 23 he became a keen grower of garlic, with his first crop on leased land at St Helens in 2007. Whilst mainly working in the building trade he finds himself more at home than ever in the garden.
Jenna remembers her first job for pocket money was picking and arranging flowers bouquets from her mother's proud ornamental home garden. For $2 a bunch Jenna and her mum's garden couldn't keep up with the demand from the small country town in rural NSW, which was very encouraging for a youngster. Working in Hospitality for most of her young adult life she was shocked by the amount of food waste in the industry and where she could would share it amongst her poor uni friends. Fast track to 2017 she starting a course in Conservation and Land Management which lead her towards the adventure of growing vegetables, without any prior experience but with interest and determination to learn the skills along the way.
Starting Early Bird Farm was a way that Jenna and Zeb could be together and create the life they wanted instead of dreaming about it. An important part of their business plan is during the hot summer day's they take beach breaks at lunch and try their luck at catching a fish in the late afternoon.
The Farm
Early Bird Farm is setting down roots in Cygnet, Tasmania on Melukerdee Country, a 45minutes drive South of Hobart. On their leased land of 2 acres the founders and farmers Jenna and Zeb believe that how food is grown is a powerful force for change. "We feel that taking care of the soil's micro – life through organic and biodynamic practices is the best choice for growing food; and that exceptional flavour and nutrition is just a by-product of these practices".
Early Bird Farm aims to feed up to 60 families with a weekly CSA box of the farm's crème de la crème seasonally grown produce. Jenna and Zeb truly value having a direct connection with their CSA members; "We enjoy knowing our customers are experiencing the very best out of our veggies and we also cherish getting to know the people who eat the food we grow".