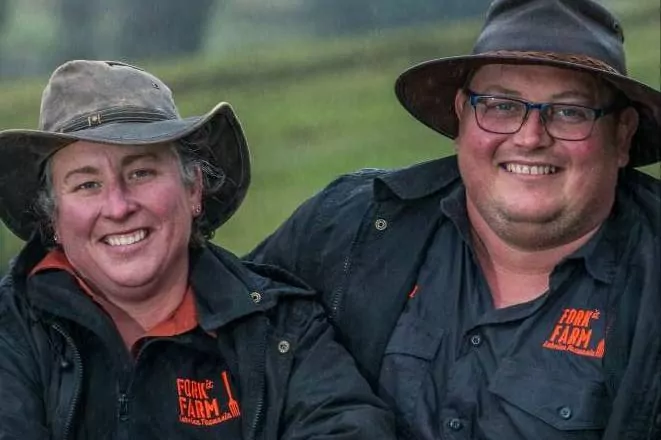 In 2017, Dan and Kim Croker said 'fork it' to the stresses of city life, packed up their life in Brisbane and moved to Lebrina in Tasmania's beautiful Tamar Valley to raise Berkshire pigs on open pastures.
They wanted to be part of the shift in the way that food is produced and consumed. They believe local, ethical and sustainable farming benefits animals, consumers, farmers, communities, and the earth.
Kim and Dan put a lot of love into everything they do at Fork it Farm and love sharing their farm. They have an open gate attitude – opening their farm so customers can see for themselves how they say they farm, is how they farm.
The Farm
Fork It Farm raises heritage Berkshire pigs on open pastures producing forkin' tasty pork. Not only do they grow the produce, they also transform it into amazing meat and charcuterie products, all butchered and cured on-farm using traditional techniques, without the use of artificial flavours, colours or preservatives. Their forkin' tasty meat & charcuterie is available at local Farmers Markets and their boutique Farm Shop. On top of this, the farm is also home to sheep, cattle, ducks, geese and quails.
Their finished pigs bring back the incredible pork flavour of yesteryear, as a result of 3 important factors:
Breeding: Berkshire pork is darker in colour, has a firm feel, tastes rich, sweet and has a clean aftertaste. The soft fat and great marbling makes for great flavour and juiciness.
Husbandry: They raise their pigs naturally on pasture where they are free to root, graze, wallow, play and consume a diverse diet.
Production: Their range of products are traditionally cured and smoked; no additives, no water injection, no growth promotants, just real, natural tasty pork.