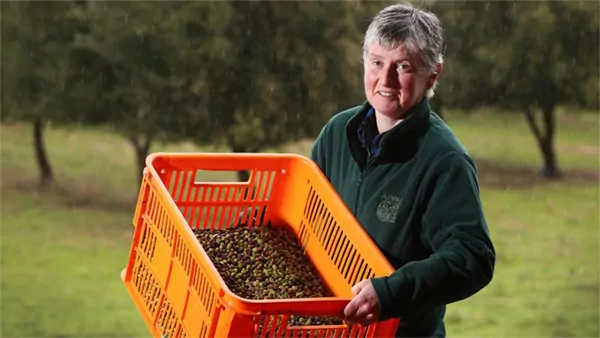 Glendale Olives is managed by Christine Mann, a fourth-generation farmer, now farming next door to the original family farm. Her interest in trees began as a child, climbing a huge pear tree in the farm orchard, progressing to a surveyor in a company growing trees and now producing olive oil from over 9,000 trees.
Having grown up on a farm she believes farming is in her blood. Her family purchased the farm in 2013 after having watched the olive trees grow since they were planted in 2005.
Her favourite oil is Frantoio, which is being marketed in the green labelled bottle and called "Producer's Choice". She feels it has a great robust flavour and the trees produce a great crop each year.
The Farm
Glendale Olives is nestled in the rolling hills between Evandale and White Hills, in Northern Tasmania, 6km from the historic town of Evandale. 15ha of olives make up the olive grove, with 7 varieties of olives across the grove.
This area is traditionally considered to be most suited to sheep farming, but this beautiful rural setting is now flourishing as one of the largest olive groves in Tasmania.
The farming philosophy is not to use chemicals if at all possible, and instead they utilise their sheep to graze the grass between the rows.
Visitors are welcome to book a visit to the grove and to enjoy the unique atmosphere and picturesque area away from the sound of vehicles. In 2016 Glendale Olives received the Reserve Champion in the Robust Class at the Australian Olive Association National Awards.