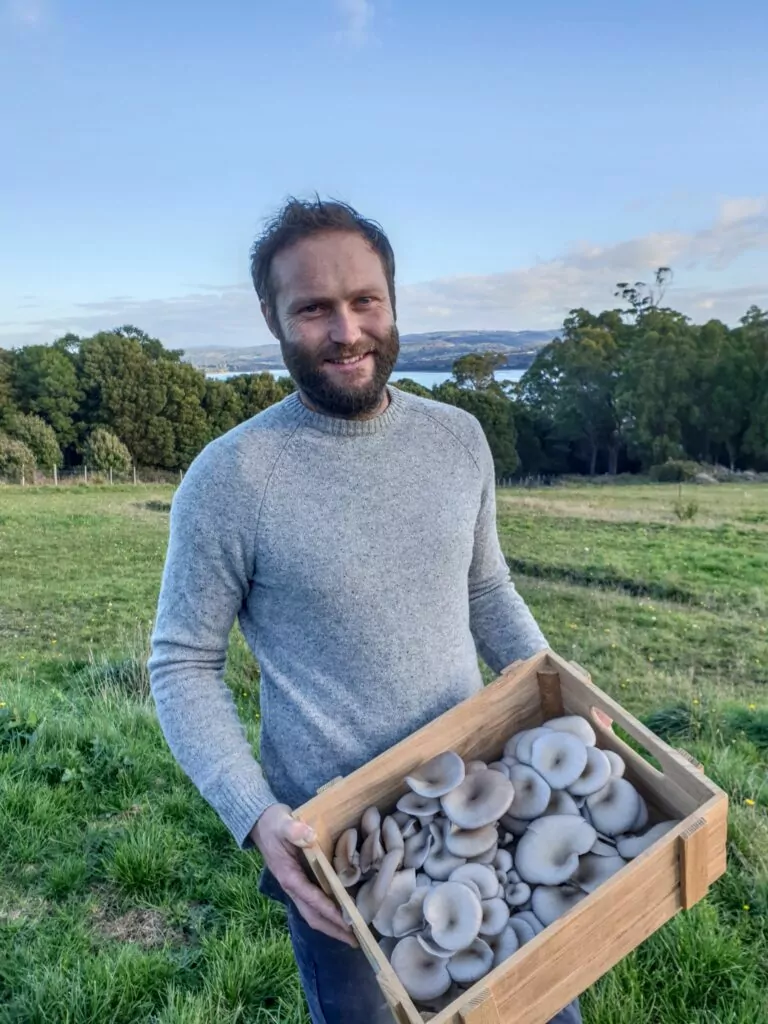 Jordan Grieves is officially the only member of Hillwood Fresh Food Co. however he is very lucky to have the support of his partner Hayley and the enthusiastic help of their young son Remy along with the new edition of their new baby in early 2022. In the future Jordan wants to create a bio diverse farm with many diverse income streams including agri-tourism. He hopes to show others what can be done on a small amount of land and at the same time create a healthy landscape and community.
The Farm
At Hillwood Fresh Food Co. the main product is gourmet mushrooms. Using farm and industrial byproducts Hillwood creates delicious, healthy, chemical free mushrooms. They are completely off the grid and therefore have to be innovative and grow mushrooms as efficiently as possible.
They also run a small herd of Dexter cattle, chosen because Dexters are the smallest naturally occurring breed and are perfect for small land holdings such as theirs. They are 100% grass fed and at Hillwood no chemicals or synthetic fertilizer are used on their pastures. They use a rotational grazing system with cows being moved daily to new pasture to maximize utilization of feed and maintain good soil health. To add to the mix they have a small flock of layer hens producing some very tasty eggs. The chooks live in a moveable chicken tractor and are also moved regularly to keep chooks happy and build healthy soil. At Hillwood Fresh Food Co they believe healthy soils are the building blocks for any farming enterprise.
Their latest venture is in to the ready to eat food market. Using their mushrooms as well as some of their other products combined with some of the best local produce they have created some heat and eat meals. All products are sold within Tasmania and direct to end users. They believe this creates a strong connection to your food and overall a better food system for everyone. They sell through the Tasmanian Produce Collective, an online farmers market and you'll also see them at Harvest Launceston most Saturdays and on the menus of Launceston's top restaurants and cafes.