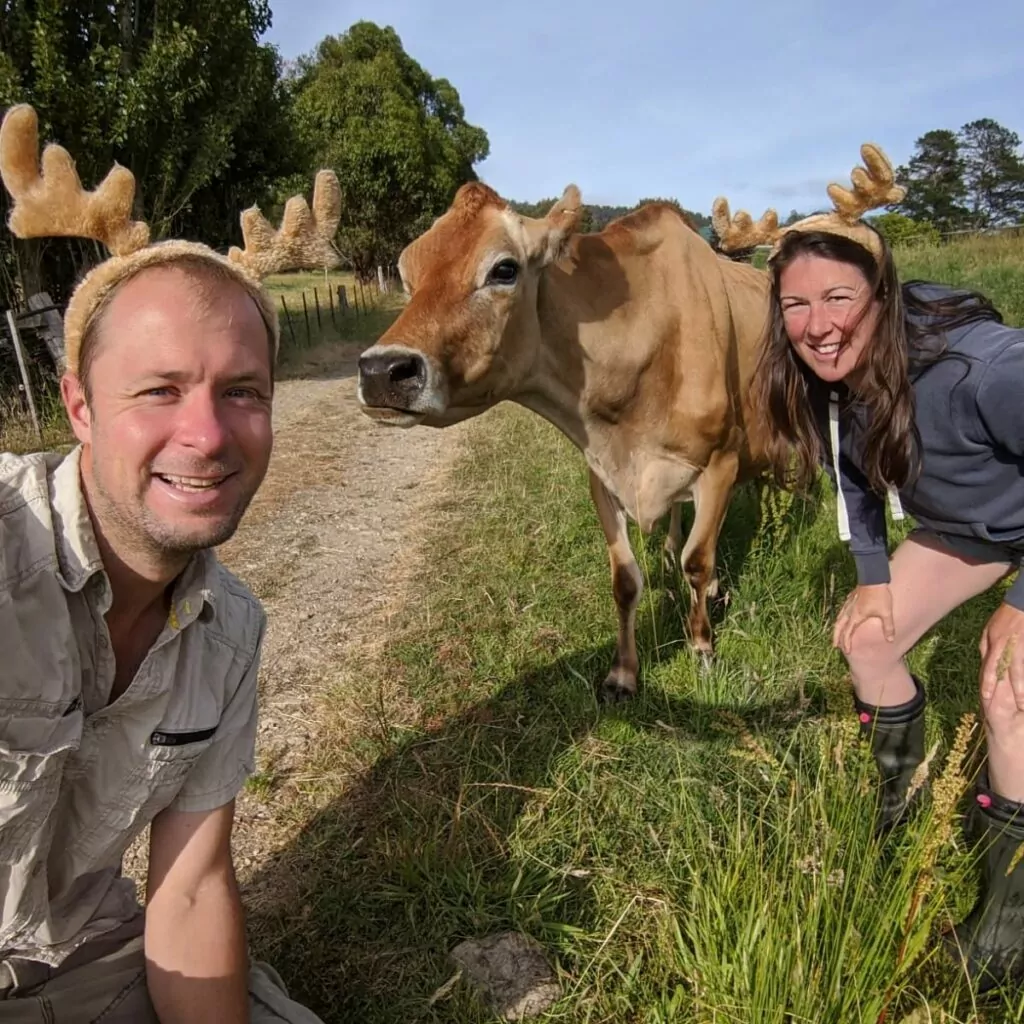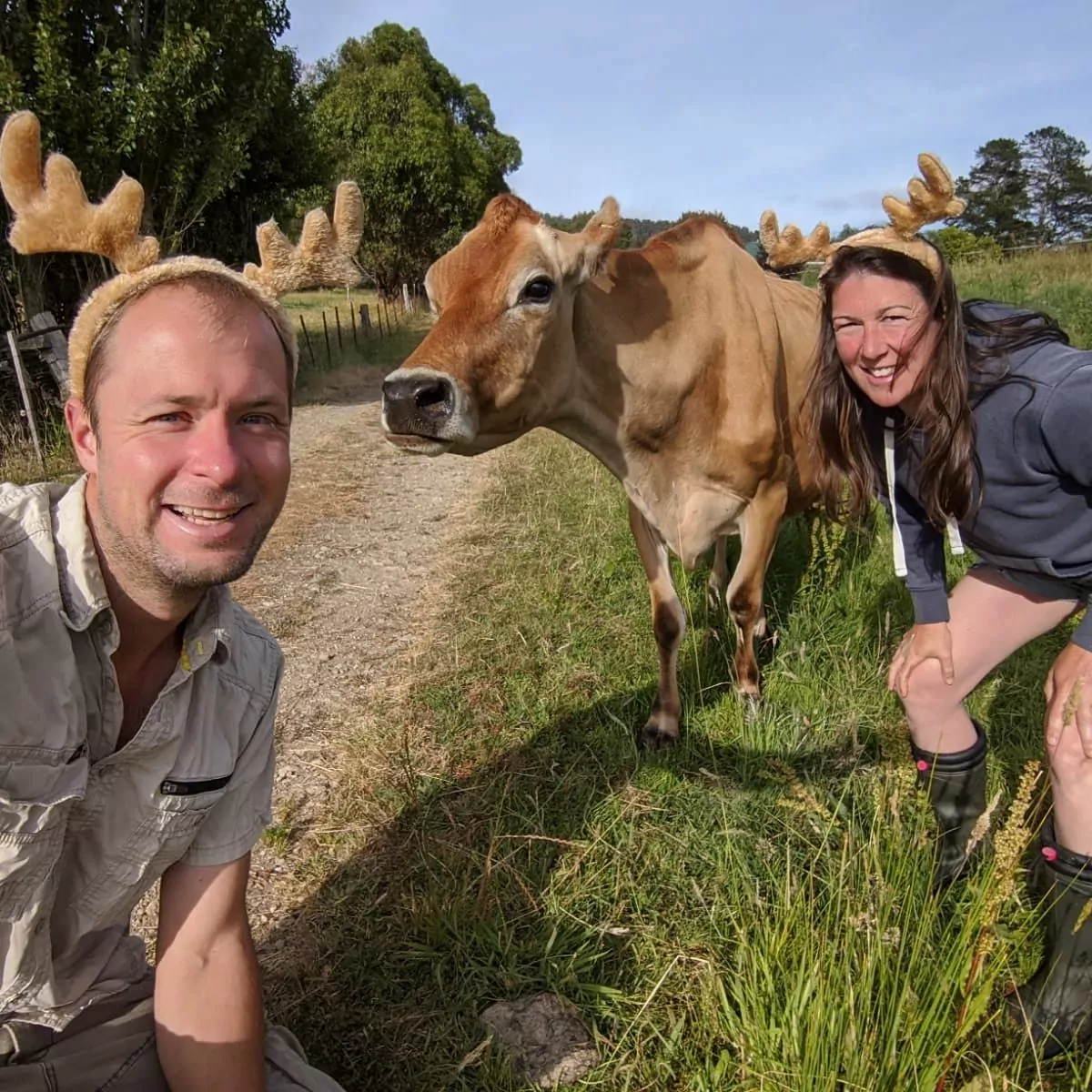 It was a shared love of food, cooking and animals that brought Bec & Paul together 10 years ago. Living in suburban Melbourne, it was always their dream to buy a patch of land somewhere and give this farming thing a go. Once Paul got his visa (he's from the UK) it was all systems go to find their little piece of land.
And here they are! They threw in their jobs – Bec ran a corporate training company and Paul was a mechanical engineer – and went all in on the farm in April 2019.
So there are no off farm jobs for these two – just a vertical learning curve! And what they lack in agricultural experience, they make up for in determination and tenacity. But they do get to apply their previous work experience every single day at the farm, and feel that those skills are equally as important as the agricultural ones.
The Farm
New to Tasmania and to farming, they made the move (and giant leap of faith) because they're passionate about sustainable, regenerative and ethical food production. It's all about taste and animal welfare for them – they believe if you're going to eat meat, be sure that animal has had the best life possible, it will come through in the flavour. They're currently building their breeding flock of Muscovy ducks, and should be selling at local Farmers Markets and to restaurants across Tassie just in time for Christmas in 2020. If you haven't tried Muscovy duck then you're missing out! Muscovy has a delicious flavour, is larger, and is slightly leaner than commercial birds.
Lone Goose Farm is in Birralee, in the central North of Tasmania. Set on 50 acres, Bec & Paul like to think they've found themselves a well kept secret of productive agricultural land.
Lone Goose Farm was named after Gayle, the resident goose. She doesn't really belong to Bec & Paul, but she was the first animal they saw when they moved to the farm and she's been with them ever since. In Spring, when the wild ducklings hatched, Gayle followed them and their parents all over the farm acting as their protector. Now they've grown up, she's befriending the farms young ducks. She's a beautiful protector even if she is a little loud at times.
The first produce Lone Goose Farm will be taking to market is pasture raised Muscovy duck meat and eggs. Most duck available on the Australian market is Pekin due to its short incubation (28 days) and fast growing time. Most Pekin ducks that you see in the supermarkets are processed at 8 weeks and never get to set their little webbed feet on grass. Muscovy is a larger bird, is leaner (most people shy away from duck because of the amount of fat), and in Bec & Paul's opinion a better flavour. Muscovy's have a longer incubation time (35 days), and the ducks at Lone Goose Farm are popped on pasture as soon as they have developed the feathers they need to keep themselves warm and dry. They are processed at no less than 15 weeks. This extra time helps their muscle development and the fact that they've been eating grass and naturally foraging enhances their size and flavour.
Economically, it would make more sense to raise Pekin ducks, but Bec & Paul believe the flavour, size and life they give the duck is worth the extra time and money.
There are added benefits to the land from running ducks. Bec & Paul rotationally graze them so they move to new pasture every few days, resulting in natural, nitrogen rich fertiliser spread over the Lone Goose Farm paddocks, creating a great improvement to soil health without the need for synthetic fertilisers. Also Muscovy's love flies and mosquitoes, so are keeping pests at bay.

Lone Goose Farm is aiming for diversity – they are looking at other produce but the main focus for this next year is duck. They are also very aware that "we don't know what we don't know", and in farming the best laid plans might not come to fruition. Bec and Paul are very ready to learn, fail and pivot.