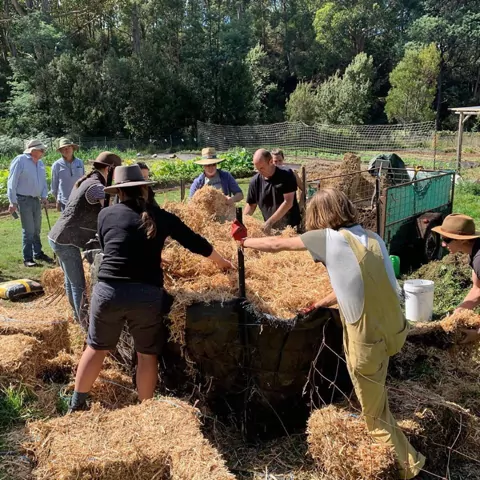 James and Hermione first met through a successful community campaign to conserve the giant Karri trees and the ancient forest ecosystems in the South West of Western Australia. They are motivated by a great appreciation for the natural environment. Conserving and rebuilding diversity in natural ecosystems has always been close to their heart.
James is a farmer, entrepreneur and innovator. He has worked on a range progressive social/environmental change and business initiatives across Australia before moving to Tasmania. With a strong concern about food security in the current global food supply system, and the degradation of the environment associated with chemically driven agriculture, he came to Tasmania in 2001 to progress his dream of developing a model for sustainable local food production.
Hermione is also a Social Worker with a passion for community development and mental wellbeing. She recognises the fantastic social, cultural and environmental return that results from providing opportunities for people to source healthy food, get involved in local food production and have access to resources so they can grow their own organic food.
The Farm
Longley Organic Farm is a variable cropping microfarm, community resource and skill sharing hub that aims to develop regenerative micro-farming both locally and internationally.
Until recently produce grown at the farm was sold to restaurants, via CSA veg boxes and at their honesty stall in Longley. Nowadays James is focussing on this other businesses, ActiveVista and Here On Earth, that offer a leading range of Urban and Microfarming tools for purchase and for hire, as well as services and regenerative soil Inputs.