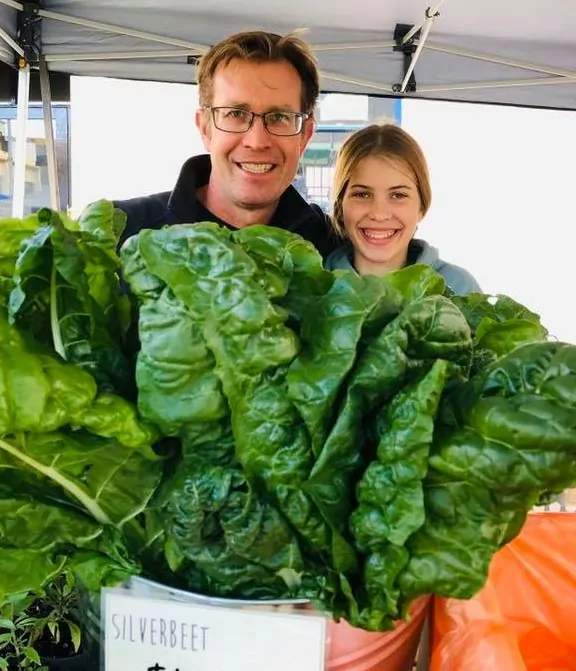 Rob Mather has over 25 years experience in parks and natural area management working in both Sydney and Hobart. In April 2019 he exchanged his management role at the City of Hobart for the challenge of establishing a chemical free market garden in the beautiful Huon Valley south of Hobart. Years of being progressively more desk-bound were taking its toll, so instead of adopting a stand-up desk, Rob opted out of the desk entirely for a farming life!
Over the winter of 2019, Rob, with a small team of helpers converted a former hydroponic tomato glasshouse to an in-ground mixed vegetable facility and Valley Fresh Farm was born. It was a big project, which has quickly shown results with early leafy green crops giving way to the more typical hothouse enterprises of tomatoes, eggplant, cucumbers and melons.
Demand for the produce has been very strong. Rob enjoys support from his family, a small team of workers and volunteers all sharing the vision of providing high quality, local, chemical-free produce.
The Farm
Valley Fresh Farm is a small holding located in the Huon Valley on the outskirts of Huonville. The farm is being developed to produce a range of organic vegetables in a large old glasshouse and surrounding open fields.
The glasshouse was established in the 1980s for hydroponic tomato production. In those days hydroponic glasshouse growing was in its infancy and the farm successfully produced tomatoes for the supermarket chains for many years. It closed when more modern and larger glasshouses outcompeted the older-style facility. The glasshouse had not been operated for at least five years prior to the establishment of Valley Fresh Farm.
Whilst not competitive in the high-volume world of supermarket chains, our enquiries found a clear value for such a structure in a market garden style of food production. Providing better quality produce, yields and season length, glasshouses are also very water and nutrient efficient.
In April 2019, Rob left his job as manager of Hobart City's bushland reserves to begin restoring the disused glasshouse. This involved converting the previous hydroponic above ground system to in-ground growing. A large project involving the removal of a plastic floor membrane from the 1800m2 facility and restoring the soil through the addition of large quantities of compost and mineral amendments. Infrastructure upgrades have included new irrigation, ventilation system, refit of the nursery benches and floors as well as repairs to and replacement of (many) glass panes.
The farm is being developed along organic principles and aims to be organically certified.
Despite the soil being covered by plastic for over three decades, first crops of leafy greens (baby spinach, rocket, kale and lettuce) as well as radishes and sugar snap peas were successfully harvested in September/October 2019. Following this, heat lovers such as zucchini, eggplant, tomatoes, basil, cucumbers and basil have been established.