The Dirt in Spring 2021
Spring has definitely hit us, not just with amazing new growth, but with winds, rain, snow and more.  That's Spring in Tassie for you! What could be more in keeping with Spring than finding asparagus at the farmers markets again!  These spears are from an SPP graduate – Phil and Lucy from @headlam farm asparagus. Looks so scrumptious! 
Message from our CEO
AGM
Our 2021 AGM was held at Hamlet Cafe in September. It was a wonderful evening event, with a fantastic collection of people from retired board members from our inaugural board, to SPP alumni members, supportive Sprout members and collaborators from all parts of the food sector. Pete and the Hamlet team in the kitchen once again impressed us all with their sensational food.
During the AGM we tabled a special agenda item which was the presentation of the new Sprout Constitution. This was a long term project undertaken by the Sprout Board, myself along with fantastic assistance from other people including pro-bono work from the team at Page Seager and also Lyndal Moore from KPMG. The original Sprout Constitution had not evolved with us as the organisation had changed and shifted, so it was definitely necessary to bring this document in line with how Sprout is operating. Having said this, our fundamental core purpose has not changed, we are 100% here for small scale producers. It was the mechanisms of how we undertake this support that had changed since our inception in 2011. You can click here to see a summary of the changes, as well as the new constitution itself.
Our Annual Report 2021 is also available online. 
Strategic Plan
During 2020, the Sprout Board and I undertook a Strategic review with the expert guidance of one of our own, Don Thomson. It was a very worthwhile process for all of us, and has given me a real sense of where the board see the organisation growing and enabled me to focus on getting us there. We are really excited to share the preliminary section of this plan with you now.
Click here to see this plan. We would love your feedback or thoughts on this, as a valuable member of our Sprout community. Feel free to send us an email to info@sprout.org.au
Fundraising
Sprout is keen to engage with more individuals and organisations across the state who share in our ethos of local, sustainable food and farmers. If you are involved in an organisation that is also 'Growing Good' in our community, and you can see synergies in what we do, then please get in touch, as there are so many ways in which donors can be involved in our organisation. Get in touch with me at jennifer@sprout.org.au or feel free to give me a call on 0419 519 296.
Enjoy the rest of The Dirt, Spring edition below.
Warm wishes,
Jennifer
Latest News
Sprout Small Producer of the Year Award 2021 – nominations are now open
The Sprout Small Producer of the Year Award is an annual award, nominated by you, the local community to recognise and award a farmer in Tasmania who you think is doing a great job at 'Growing Good' in your local community!
This award is for a small farming business, producing either fresh fruit or vegetables, meat or eggs in an ethical, sustainable and small scale method in Tasmania.
We look for farmers how:
produces amazing food
contributes to and engages with their local community and the food community in Tasmania
collaborates with others and shares knowledge
strives to leave the land they are on in a better state than when it came to them
Sprout Producer News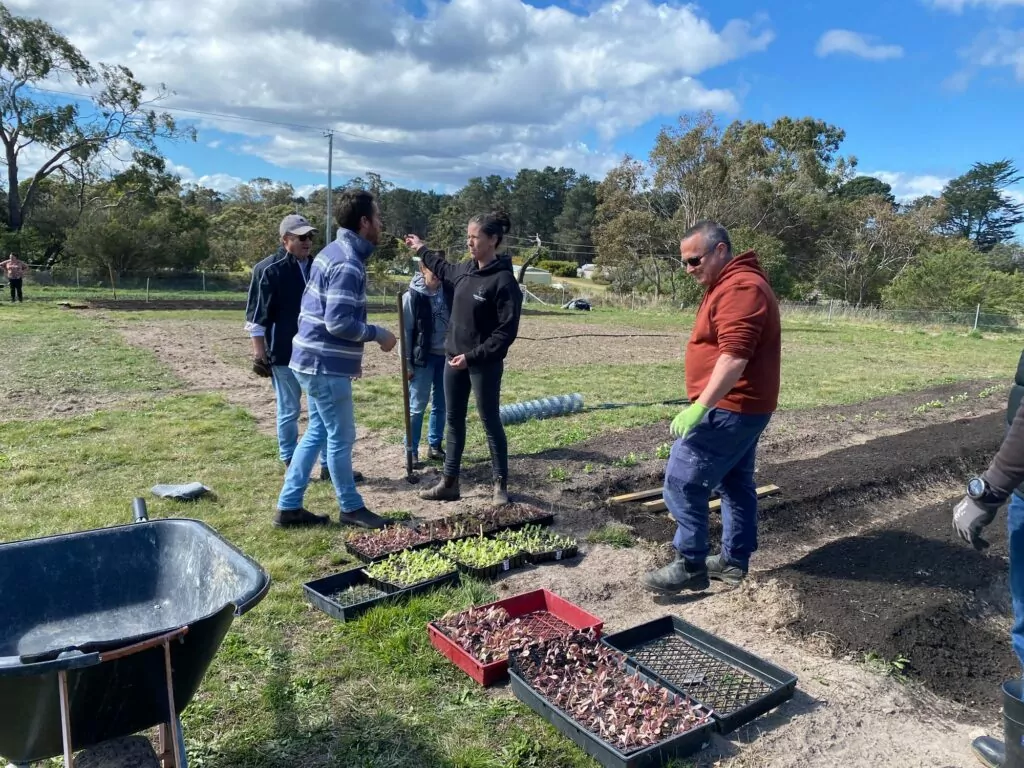 Ollie Benson, our Producer Liaison has been getting his teeth stuck into the Sprout Producer Program, and loving it! Here is an update from him about our latest field day to Libby's South Arm Farm a few weekends ago.
On Saturday 18th, as dark clouds gathered over kunanyi the sun continued to shine in South Arm and the current Sprout Producer Program cohort gathered for their latest field day. Libby Graham of South Arm Farm was the host, and we had a fantastic day learning more about Libby's story. From the girl who always wanted to be a farmer to the incredible woman now establishing a market garden, hearing how she's ridden the highs and lows left us all inspired. Together with Jen, Raj, Tony, Ollie and Sprout's chairperson Justin, the group got their hands dirty and helped Libby plant potatoes, peas, lettuce and onions and erect a trellis. Following lunch we then had the privilege to listen and chat to chef Luke Burgess and market gardeners Grace and Dylan from Broom and Brine. Luke's experiences in the kitchen and also in the field helping Tony at Rocky Top Farm proved invaluable as the team learnt how the relationships between producers and chefs can produce incredible results. Grace and Dylan then explained how they grow vegetables for a Community Supported Agriculture (CSA) scheme. Watching the cohort humorously arguing between themselves about who would ask the next question left us in stitches.
A massive thank you to Luke, Grace and Dylan for their time, as well as Libby for being so open and honest and trusting us with her seedlings!
Events & What's on
Polytunnel Workshop – Saturday 9th October
Tickets close on Wednesday for this event, being hosted at Rocky Top Farm in Penna. There is a line up of awesome market gardeners for you to learn from!
Pastured Pig Farming Webinar – Tuesday 26th October (online)
This is a free session for Sprout Members, $30 for non-members, where we cover all things pig farming.  There will be experienced farmers sharing their knowledge and stories of things that have worked and not worked, as well as a well known Tassie Vet to take part in pig nutrition discussions.
Cross Pollinate 2021
This year, we are celebrating turning 10 by hosting two events on farms in different parts of the state, wrapping it all up with a sensational dinner in Hobart.
Click here to visit the Cross Pollinate 2021 website, and book your early bird tickets now.
Early bird tickets close on 12th October.
Our Community
Eat Well Tasmania's WHat's in Season Spring eBook
Eat Well Tasmania conducted some research in 2018 about what is in season in Tasmania at various times of the year.  Now Libby, Carl and the EWT team are building on this, to produce an ebook with information, recipes and more, in conjunction with the team at Harvest Launceston. Keep an eye out for it!
Landshare Opportunity at Scrubby Hill Farm: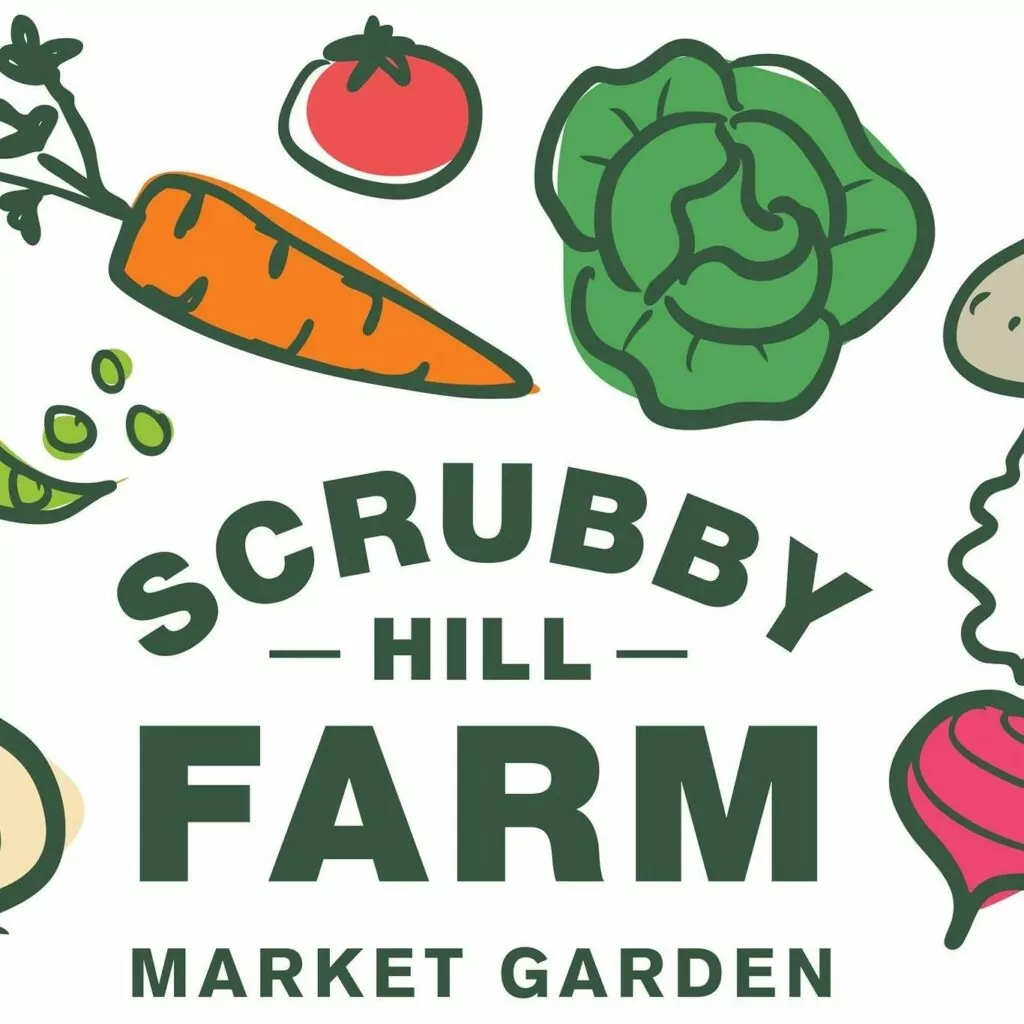 Change is afoot at Scrubby Hill Farm in Geeveston who are on the lookout for a gun market gardener or gun in the making to take on the food production element of their farm. Perhaps you know of someone who is looking for some land to market garden?
Here's some info about the opportunity:
ABOUT SCRUBBY
Scrubby Hill Farm has been an integral part of the Geeveston community for seven years. It was developed in response to community feedback wanting access to good food for better health outcomes.
Coordinated by the Geeveston Community Centre, Scrubby Hill Farm now operates as a market garden, runs a weekly pop-up farm-gate stall, coordinates workshops and farm open days and provides a nook for local volunteers to come, connect and lend a hand.
We are committed to local food security, community health and wellbeing and fostering community capacity.
THE OPPORTUNITY
The farm currently operates as one large market garden (2 acres). However Scrubby Hill Farm would like the site to encompass multiple functions including: food production, micro farm education and training, events and experiences.
We're looking for suitably experienced gardeners to take on the food production aspect of the farm and we'll do the rest! You grow and harvest; we'll purchase all of your produce and coordinate the sales and distribution to the community.
If you know of anyone who might be keen you can contact Krystal Cox on 0400 974 975 or complete the Expression of Interest Form.
Digital Ready Program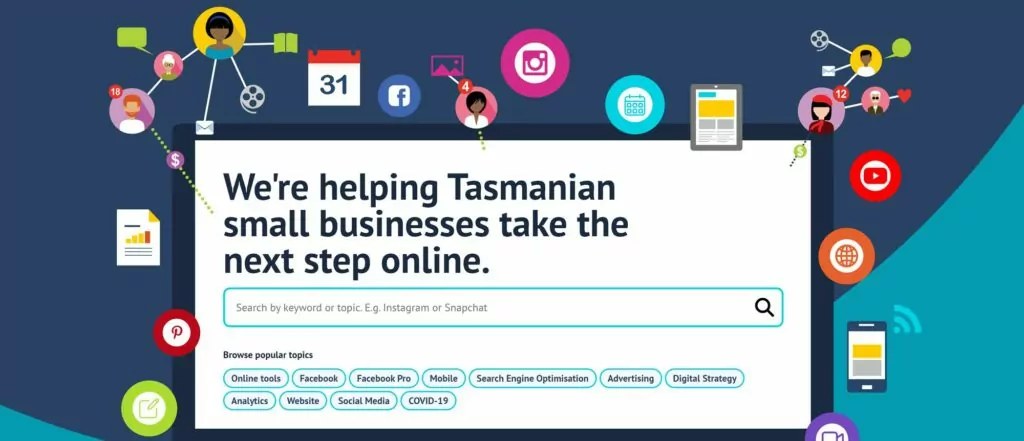 Did you know that if you have an ABN, running a business in Tasmania, you are entitled to 4 hours per calendar year of mentoring and advice through the Digital Ready Program? It is an amazing resource and one that you can tailor to exactly what your needs are. If you need a 101 on social media, you can spend time on that, or if you are completely fine with this, but need to look at a framework for a how to kick start an online shop this can be covered too.
Click here to see more about the program and read bios on the various experts around the state who are there to help you out! We've taken part on multiple occasions and always found the help invaluable.
Regenerative Agriculture Network Tasmania
Did you now there is an amazing network, bringing together farmers from across the state to learn and share their experience of regenerating their land through a variety of practices?  The Regenerative Agriculture Network Tasmania (RANT) President Celia Leverton, recently spoke on the podcast The Curious Farmer saying that the network focuses on the outcomes they want to achieve, rather than the methodology.  Being derisive about techniques doesn't help anyone, we need to come together, learn from each other and drive forwards to achieve the improved function of our landscape. If you are interested to learn more, or connect with one of their workshops or farm walks, check them out at www.rant.net.au