The Dirt in winter 2022
This background picture of a cauliflower was snapped by Luke and Mel from Springdale Farm in Collinsvale during the latest dump of snowy goodness, as their property hugs the back of our beautiful kunanyi mountain.
Latest News
Message from Jen our CEO
Here at Sprout, we are constantly looking for opportunities to further support the small-scale producer sector in our state, be that through advocacy, project planning, collaboration or direct support.
I am thrilled to share with you all that Sprout was successful in gaining funding from the most recent round of grant applications as part of the Strategic Industry Partnership Program (SIPP) delivered through the Dept of Natural Resources & Environment Tasmania.
We were granted $40,000pa. over a three year period. This grant funding will assist Sprout in undertaking the Sprout Producer Program over the next three years, so we are able to continue to support and empower the producers in this state, to help them thrive. We are so keen to see a growth in capacity and outcomes for both community and environment from this work.
It is validation once again that this sector of agriculture is important, YOU are all important in the role you play as part of our broader food sector. We are super keen to continue to deliver this program and will be looking at how best to shape this program as we see needs change into the future.
Blundstone Australia have also committed to providing us with sponsorship for our Sprout Producer Program for the 2022/2023 FY, and our relationship with them means so much. It is humbling to see how a large organisation sees benefits in supporting organisations such as ours, and sees the need for championing Tasmanian producers by being a part of the collective that supports them. Thanks Adam, Darryl and the team at Blundstone! We love working with you.
Finally, an interesting study has been conducted, looking at the emissions of transporting food for human consumption, and the results are in. Global freight transport associated with vegetable and fruit consumption contributes to 36% of food-miles emissions, which is almost twice the amount of emissions associated with this production. Jump to the report here, if you are nerd like me and interested in the details 🙂
This has really hit home for me, and Sprout as an organisation that is committed to building capacity for producers who are farming and selling their produce to the local community here in Tassie. As a society, we have become very accustomed to having access to produce all year round, even when it is completely out of season here in our neck of the woods, just because we could due to the open trading channels of a globalised economy. But just because we 'can' doesn't mean we should. This report now shows us that we need to think local and sustainable when it comes to the fruit and vegetables we consume, because they too have a footprint and an impact on our climate.
So Tassie peeps, next time you see out of season fruit and vegetables at your local store, perhaps think twice, and remember that supporting Tassie producers gives rise to so many benefits for you and climate, not to mention in season produce just tastes SO much better!
Stay warm this winter!
Jen
Have you ever considered being a part of the Sprout Board?
We currently have some positions vacant on our volunteer Sprout Board, so if you are keen to join our hands on, grassroots organisation, then we would love to hear from you. Skills we are particularly thirsty for (but not a requirement) are:
Policy
Corporate sector
Philanthropy
Fundraising
Farming and producing food
If you would like to know more about what a position on the board would look like in terms of commitment, check our website here. Also, feel free to phone our CEO Jennifer on 0419 519 296. Applications can be emailed to our Chairperson, Justin Birchmore – justin@sprout.org.au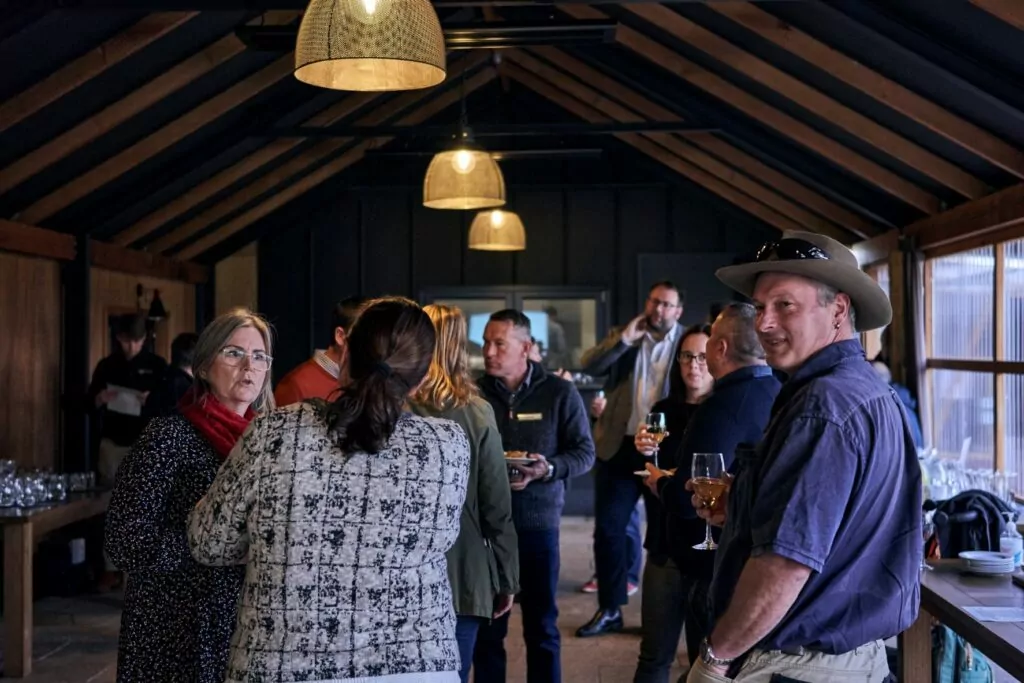 member profiles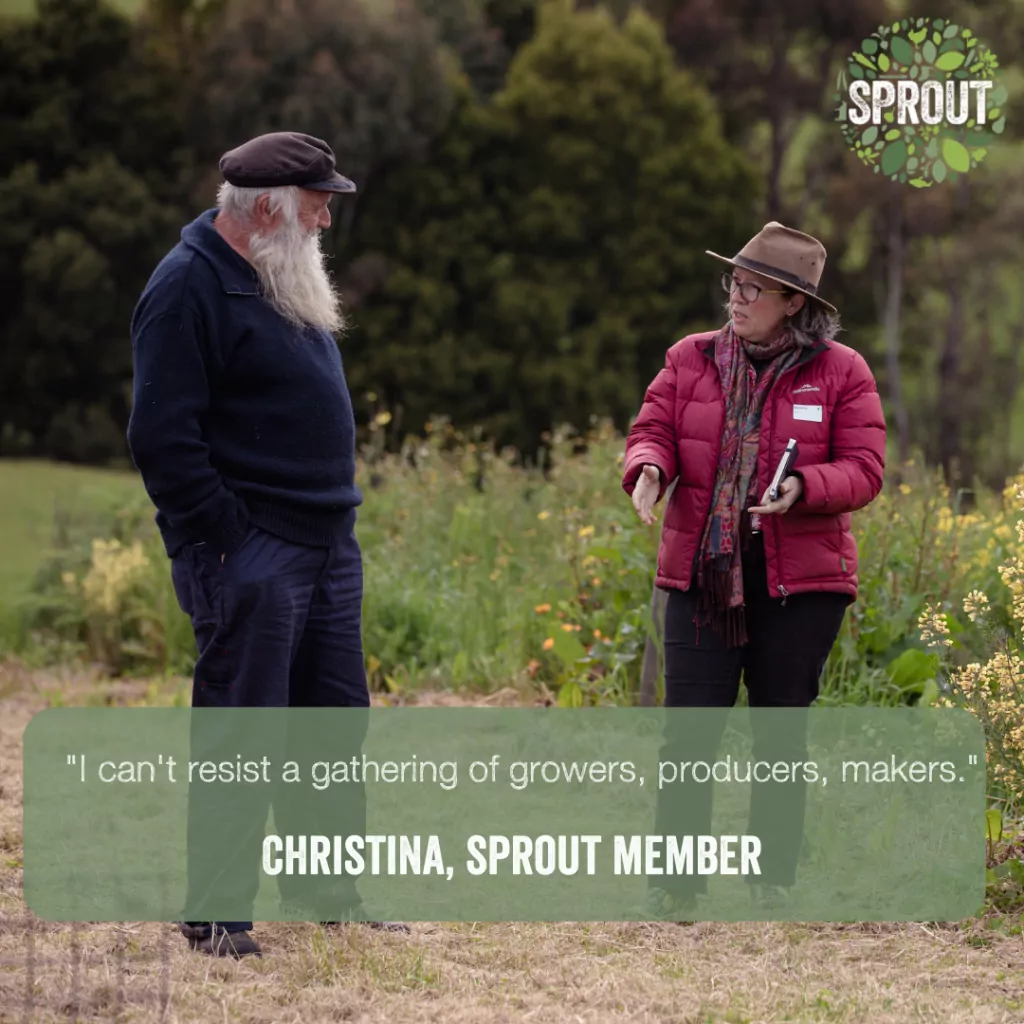 We are digging into the depths of our membership base, to unearth some wonderful profiles of the different types of people who are members of our organisation. They come from so many different parts of the broader food and agricultural sector of Tassie, and we thought you would find these stories as interesting as we do.
Meet Christina Giudici!
What do you focus your grey matter on Christina?
"Making stuff and growing stuff. From small to large scale, eg growing my own dinner, or upcycling old feed bags, or helping to build renewable energy infrastructure, or starting a business making biochar from sawmill waste."
Why are you a member of Sprout?
"I can't seem to resist a gathering of growers, producers, makers. I'm passionate about regenerative agriculture, and want to learn about it and support people who are working towards healthier soils and food systems."
What do you get out of coming to our events?
"Being around inspiring and like minded people. Hearing the stories, and seeing all the different ways people are doing their thing."
What are you excited about, for the future of food & farming in Tasmania?
"More and more people valuing the producers and systems that are making stuff in a way that is regenerative. Turning waste streams into valuable regenerative tools, eg biochar, and seeing this incorporated in innovative ways to enhance parts of a regenerative system."
sprout producer news
Our cohort are making leaps and bounds with their participation in the program so far this year. Many are in the winter phase on farm, which sees infrastructure projects being tackled (this always includes fencing doesn't it?!) and Spring planning for vegetables. Our stock farmers are diving into calving and lambing which definitely makes for busy times.
Our latest field day was at Springdale Farm in Collinsvale where Luke and Mel showed us the amazing progress they have made since arriving on their property. Selling 119 veg boxes to their local community over a 22 week period for their first commercial season was a massive achievement, and they are now planning how they can expand on this for the upcoming season.
Find their bio here on our website, along with all SPP producers.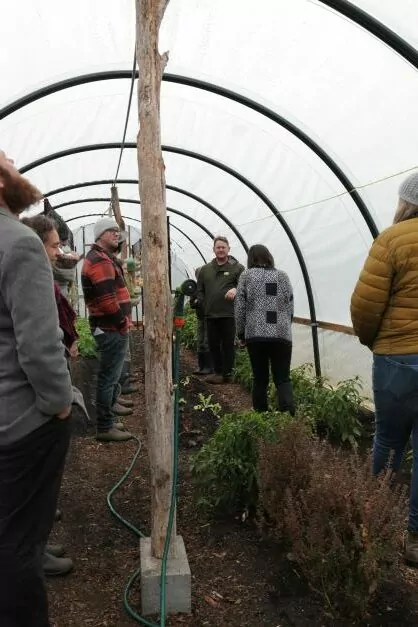 Applications will open in August for our 2023 round of scholarships. Make sure you are signed up to receive our newsletter, and follow us on social media to hear when applications are open.
on our plate
member benefits
We have been working on collaborating with our fellow peeps in the agricultural sector to bring our members some tangible benefits, aside from the warm heart feel you get when supporting Sprout 🙂
Here are some benefits you can enjoy as a member of Sprout for the 2022/2023 year:
ActiveVista – 3.5% discount on all purchases
Here On Earth – 10% off all hire of market gardening equipment
agriCULTURED – get 10% off tickets to Conversations in the City
Discounted tickets to all Sprout events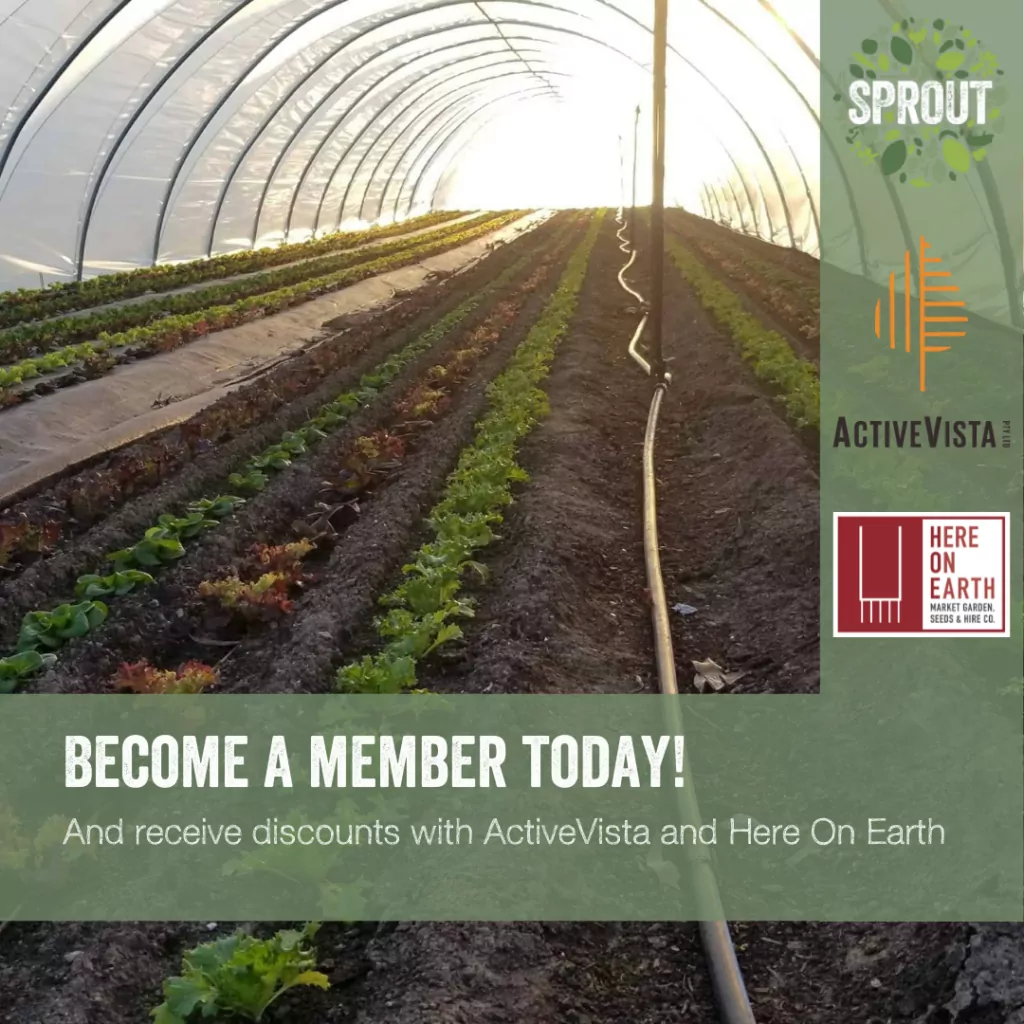 website upgrade
We've launched a new look website and couldn't be happier! It gives us the platform to be able to showcase what we do, why we do it and who it is involved in our organisation. Thanks to the team at @kingsdigitaltas who were a pleasure to work with on this project. Take a look and let us know what you think.
Click here to see our new site.
save the date
Our AGM will be on 15th Sep 2022 6.00pm – 7.30pm at the Battery Point Community Hall, Hobart.
More info closer to the time.
Your Tas Ag Community
Tassie Business Growth Strategy consultation rounds
Department of State Growth are conducting consultation in the process of writing the Tasmanian Business Growth Strategy for 2022-2026, and they want to hear from Tasmanian businesses about what they think.
Click here to find out how to be involved and share your thoughts.
Consultation closes 15th July, 2022.
Thanks for supporting Sprout!
Love, the Sprout team.