The Dirt in WINTER 2023
Welcome to the Winter 2023 edition of our seasonal newsletter, The Dirt, where we dish the dirt on the latest comings and goings of Sprout Tasmania.
ceo message
Over the last few months, I have had the privilege of engaging with a huge variety of organisations, from CSIRO, UTAS, Sustainable Table Fund, Regional Development Australia, Young Farmers Connect, Tassie arm of National Emergency Management Agency, School Food Matters, Tasmanian Produce Collective and more.
The conversations have been varied and rich. In some I am a curious observer, for others I am an active instigator and participant in the discussion, with a drive for specific outcomes.
Reflecting on these meetings and revisiting my notes gave me a chance to digest, and I wanted to share with you some of my thoughts, or quotes from people that really hit home.
The concept of what a typical 'farming business' looks like is still very much stuck in the traditional conventional idea of what farming is. There is a disconnect between the finance sector and policy makers, and the way in which agricultural businesses are now operating, especially in peri-urban and urban settings.
That it is difficult for many agroecological farmers, big or small, to access financial support to grow due to the two systems having very different values at their core. This needs to change, and there are businesses and organisations doing some incredible work in this space both here in Australia and overseas.
To effect deep systemic change, we can't keep trying to solve each individual problem, we need to create a whole new paradigm and level of awareness in which to operate.
Finally, a wonderful analogy someone used was a bag of marbles vs a huge boulder….a group of many farmers is collectively strong and relevant. This is so true.
Our Cross Pollinate conference this year, thanks to Ollie's amazing work, has some incredible presentations from people who are coming at some of these concepts from unique angles, and really making a difference. I can't wait to see you all there.
There is work to be done, and we are keen to tackle it. Which is why we have also applied for funding through the Sustainable Table Fund grant round, which would enable us to do more of this advocacy and stakeholder engagement work. We will keep you posted about the results.
I will be keen to see the data we are able to gather from our second round of surveying the sector. We will share some of these findings with attendees at the conference on 25th June. This will arm us into the future in terms of how best to support and empower this vital sector of agriculture in Tasmania.
Keep in touch with us and enable us to support you by becoming a member.
Warm regards,
Jen
in our paddock
Cross Pollinate – tickets are on sale, and what to expect
Tickets are now on sale for our annual conference, Cross Pollinate. The theme is Cultivating Success and over the course of two days we will be tackling the thorny subject of financial viability within small to medium sized farming businesses. We see this as the biggest issue facing the sector, and while it's a complex subject we are confident it's an event that will inspire and challenge ways of thinking.
This year the conference is being held in Hobart and the Coal River Valley. Day 1 takes place on Sunday 25 June at Moonah Arts Centre and features a day of presentations from farmers and non-farmers, each speaking on a topic centred around ideas for increasing productivity and profitability. We have an amazing line up that includes:
Lauren Byrne from Felds Farm
Jake Wolki from NSW based Wolki Farm (recorded interview)
Daniel Sih from productivity experts Spacemakers
Grace Gammage & Dylan Lehmann from Broom & Brine
Mikey Densham from VIC based Five Tales Farm (recorded interview)
Chez Orchard from Tasmanian Produce Collective and Young Farmers Connect
Dr Simon Spain, Chair of Regional Arts Australia
Briony Robert from Fat Carrot Farm
Dan Miller from US based investment platform Steward (recorded interview)
Kate Field (Leap Farm), Matt Tack (Our Mates' Farm), Coral Warren (Rise & Shine Farm), and Paul Hallier (Lone Goose Farm), who will be taking part in a panel discussion called Dare To Ask!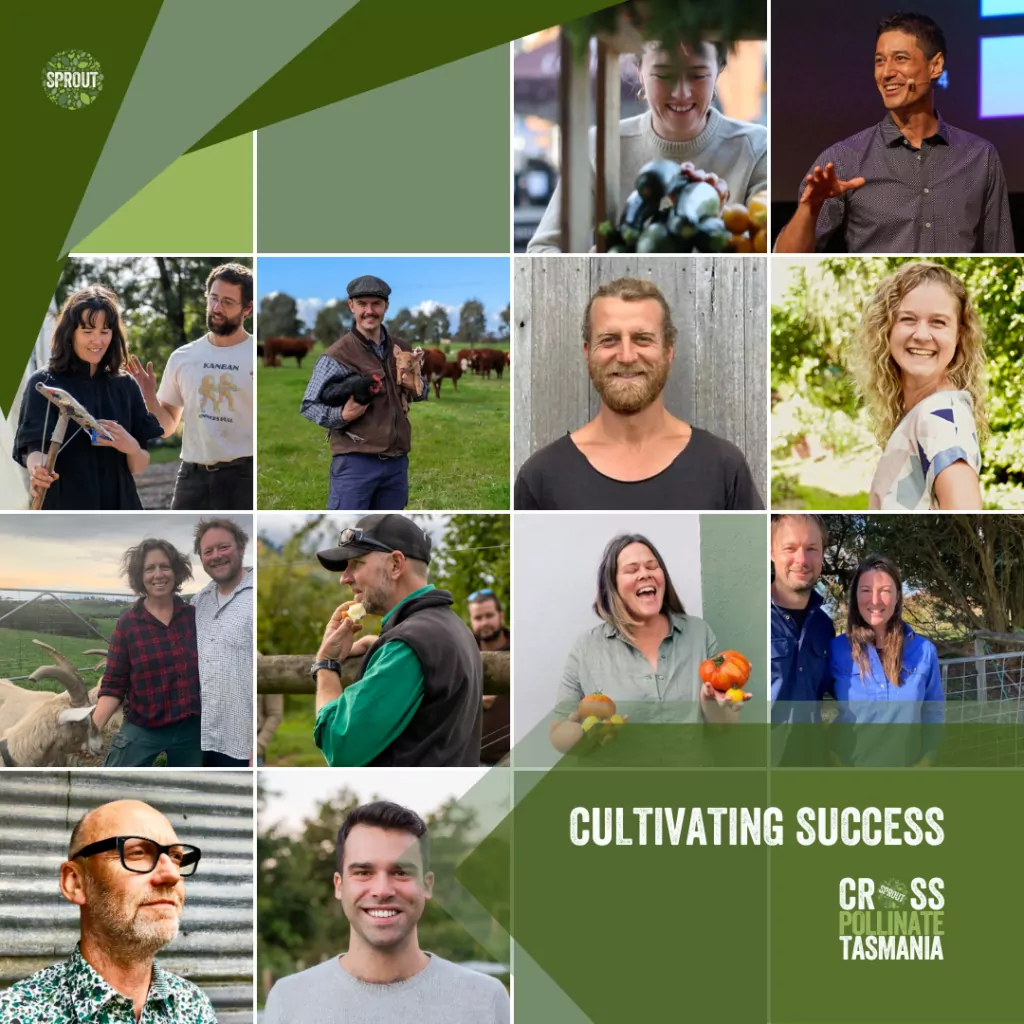 The following day, Monday 26 June, sees us out and about. We will be taking a bus tour visiting four farms in the Coal River Valley that each have a story to tell about seeking financial viability. Rocky Top Farm, Coaldale Walnuts, Littlewood Farm, and Ripple Farm have kindly let us swing past for a good old natter, and a quick tour of their farms.
We'd love to see non-farmers there too, and remember you don't need to be a Sprout member to attend (although you do get discounted tickets if you are, so it's a great time to join). The event is designed to be enjoyed by everyone and anyone with opportunities to learn no matter what you do. We believe anyone who loves food and cares where it comes from will be interested in the event, and we'd love to see as many members of the public as possible.
Each day is ticketed separately. For all the details, including full agendas, FAQs, and how to book tickets head to our website. We can't wait to see you there!
The Small Scale Producer Survey
Our latest small producer survey closed a couple of days ago, and we've been blown away by your involvement. Thank you so much to everyone that took part, we've had a huge number of responses and the data is going to be so valuable for our organisation.
So, what are the next steps? Well, we will now get to work distilling the information and will release some snazzy infographics soon. Most importantly, we will be able to use the data to inform strategic decisions about our advocacy work. Stay tuned for all the updates!
The Sprout Producer Program – 6 producers, 5 months, 19 farms
We're almost half way into the 2023 Sprout Producer Program, and it's been an amazing year so far. The format is a little different this year, with the field days all taking place in the first few months. Over the course of three weekends, we saw each of the participants farms as well as 13 other producers. We feel this exposure to other farms and farmers will be invaluable to the cohort, providing inspiration, generating ideas, and giving some clear understanding to how to run a successful farm.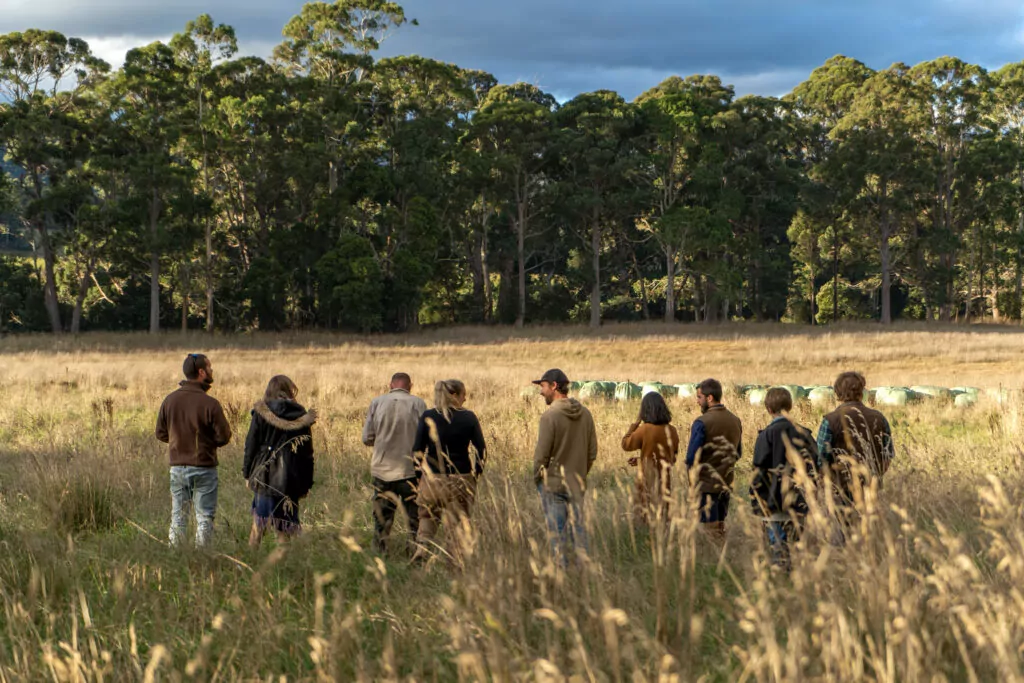 These field days have also allowed us to really get to know the group, and the next stage of the program is a series of coaching days in Campbell Town that will help them develop the next steps for their farming businesses. We will also continue our monthly workshops (a huge thank you to our guest speakers so far – Robin Tait, Brendan Leys, Nick Ritar, and Yolanda Hanusch) and regular online hangouts.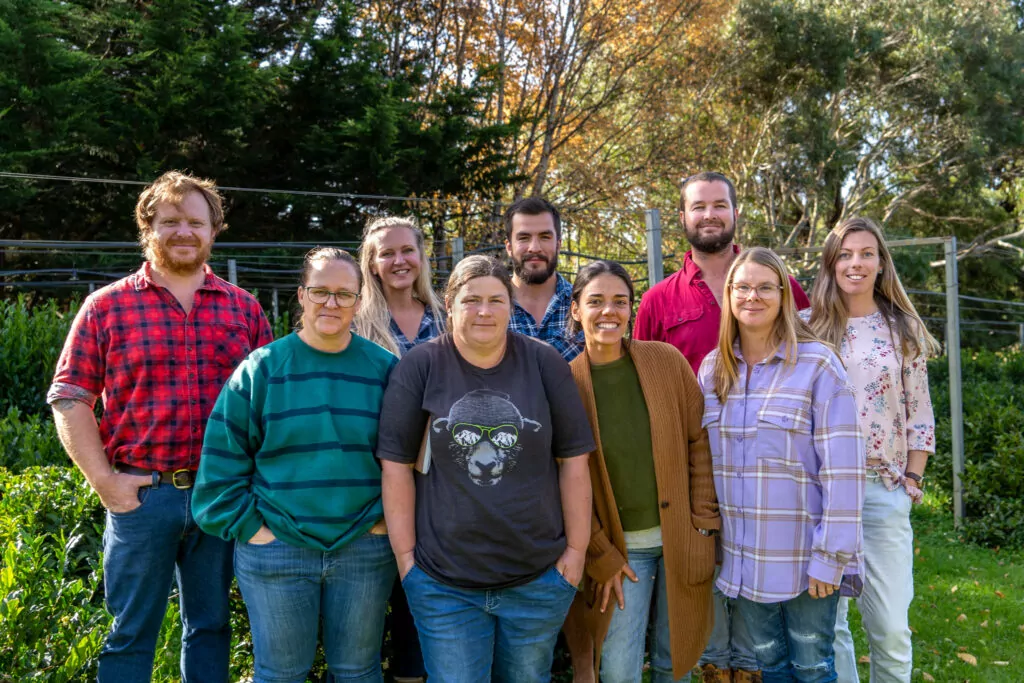 Regular updates – we're trying!
If you follow us on social media, you may have seen recent updates about the work we're doing. We're trying to get better at talking about ourselves, it's not something that we necessarily find comfortable, and at times we've been guilty of working behind the scenes without letting you know what we're doing – you see, it's not just about Cross Pollinate, the Sprout Producer Program, and fancy end of year dinners! In fact, that's just a small part of what we do.
So, if you don't already, follow us on Instagram, Facebook, or LinkedIn to see out who we're meeting with, who we're collaborating with, who we're supporting, and what we're fighting hard for. And please let us know if there are causes you'd like to see us champion, or events you think we should be promoting. Together we're stronger!
Your Community
Sustainable Table map and report
Have you seen or heard about the Regenerative Investment in Farming and Food report recently published by the good folks Sustainable Table?
Essentially, it's a guide to how investment and philanthropy can help generate our food and farming systems. It's a really interesting read and we highly recommend you spend some time pouring over it.
They have also launched the Australian Regenerative Food and Farming Map. This map gives visibility across the industry, allows for connection and collaboration in ways never before possible, and catalyses the transformation of food and farming systems in Australia. If you are a farmer or organisation supporting growers and producers then take some time to apply and put yourself on the map.
NRM Workshops
As ever, the NRM teams are smashing out amazing workshops. You can find all the details on their websites, and this month they've got two in particular that caught the eye:
On Wednesday 7th June, as part of a Future Drought Fund project, Eve Lazarus from the Derwent Catchment project together with NRM South have organised a field day on drought-lotting/containment feeding. It will be held at St Peter's Pass in Oatlands and features Bec Scammel, a livestock farmer from South Australia, and Bruce Jackson.
As a part of the Tasmanian Soils Extension program, NRM South have secured Dr Oliver Knox to come down from NSW for a soil biology workshop in the Coal River Valley on Thursday the 8th of June.
FermenTasmania's Fermentation Hub
Expressions of interest are now open for businesses looking to utilise the new Fermentation Hub being built in the Tamar Valley. The Hub will be a world class food innovation facility building on Tasmania's expertise in fermentation, and to register your interest head here. As FermenTasmania Chair, Kim Seagram says:
"This industry-led facility is a global first, with 1800 square meters of space to ferment beverages, food and even nutraceuticals and green energy. Not only is it a space for industry to play and innovate small scale commercial products, but it will also provide spaces for cutting edge research and development, hands-on training and even agritourism and fermentation experiences for locals and visitors alike."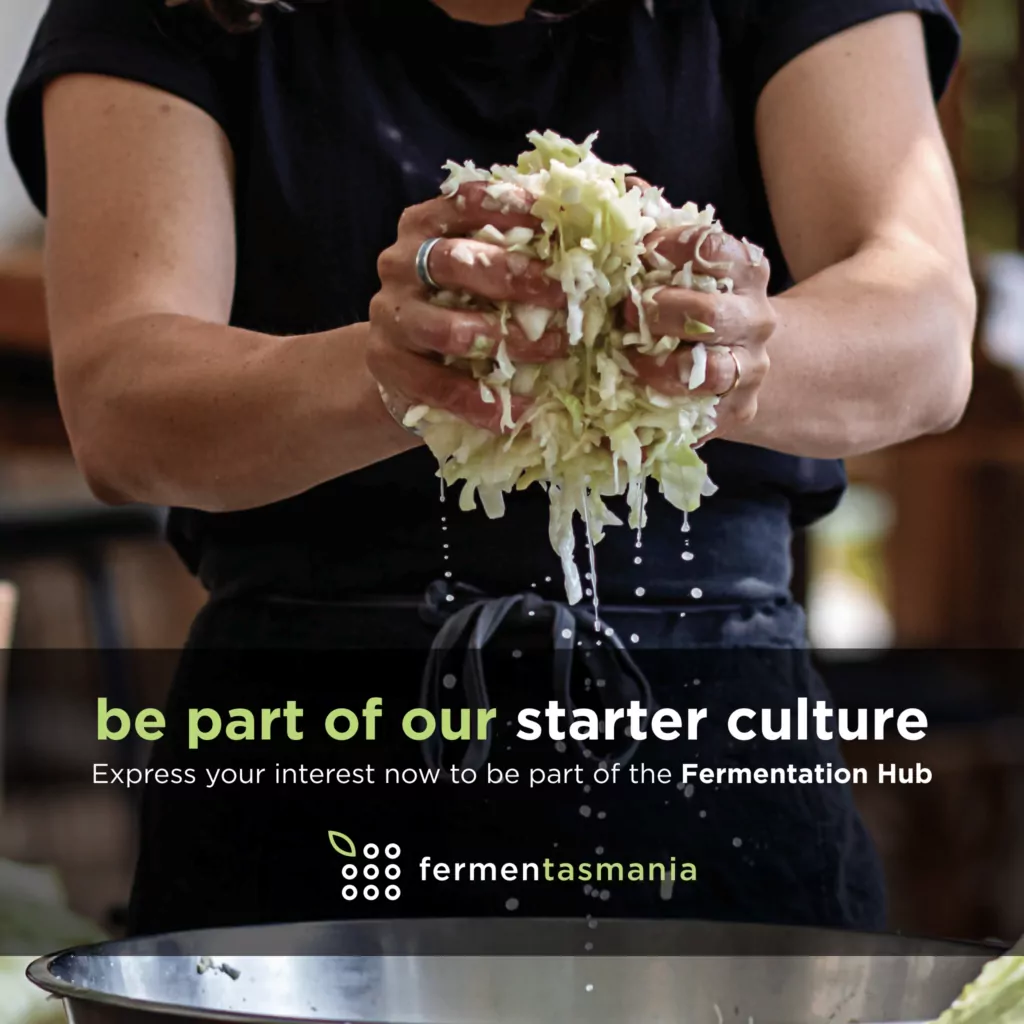 RBT Cadetships
Rural Business Tasmania have begun promoting their cadetship program.
"Our Cadetship program has been designed to increase the uptake of agricultural traineeships/apprenticeships. Our program is one day a week for twelve weeks to allow employers to better get to know and understand how a cadet fits into their business and allows the cadets to understand the role they will be undertaking if they accept a traineeship. Another benefit of our program is we have built-in 4 information sessions for both employers and cadets to attend that aim to build an understanding of the process they will undergo if they take on or accept a traineeship. These information sessions are run by Primary Employers Tasmania, an RTO and a sign-up organisation. The primary aim of the cadetship program is to ensure all cadets transition into a traineeship at the end of the program."
For more information, contact Rhett McKenzie at RBT – bdo@ruralbusinesstasmania.org.au
TWiA
The incredible teams at Tasmanian Women in Agriculture have lots of things happening. Starting this month, they will be commencing their series of "Beyond the Farmgate" Skills Development sessions. These are a series of programs that will be set over the next four years to help women with their business ventures and family farms. Many of the dates and venues are still being worked out, so keep an eye out on the TWIA website and their Facebook page.
Over the winter months they will also be running driver training courses to help build confidence and safety when driving on rural roads (for dates and full details head here), and at Parkham Hall on 11th July they will be hosting a Friends of RAW training session in partnership with Rural Alive and Well Tasmania.
Tas Produce Collective – call for board members
Tas Produce Collective is a producer led cooperative operating in Tasmania, giving producers access to a state-wide network of producers, new channels to market and more. TPC are keen to find some new members to join their board as committee members, who as a group help to steer the organisation in the direction that will best benefit producer members.
They have general positions vacant, as well as an opportunity for a Treasurer position. For more details about the organisation, visit the TPC website, or email info@tasproduceco.com.au with your CV and cover letter to kick start the conversation.
Business Tasmania
Last year, Jen was part of the consultation process for the Small Business Growth Strategy 2026. Business Tasmanian have now just released their first implementation plan setting out more than 100 actions that will be undertaken by various Tasmanian Government agencies and business representative organisations with a focus on maintaining Tasmania's appeal as a place for business.

You can view the Small Business Growth Strategy Implementation Plan on the Business Tasmania website.
Future of Local Government Review
At the end of 2021, the State Government established the Local Government Board and asked it to review the way Tasmanian councils work and make recommendations about how the current system needs to change so that councils can meet the challenges and opportunities the community will face in the future.
The Board has released a Stage 2 Interim Report, which outlines the work they have done over the past nine months. They are now inviting comment on all aspects of the report, and given the potential impact to agriculture and landowners we felt it was important to highlight. You can review it and submit comments here.
The Huon Producers Network
HPN recently announced that they are sadly disbanding their organisation, and so we would like to take a moment to acknowledge and congratulate everyone that has ever been involved at HPN. Through their produce market, workshops, and events, HPN led the way in supporting Huon based producers for over a decade, and in their wake it's exciting to see lots of work happening in the valley through other organisations.