The Dirt in spring 2022
Welcome to the Spring edition of our seasonal newsletter, The Dirt, where we dish the dirt on the latest comings and goings of Sprout Tasmania.
ceo message
With the days showing the promise of warmer weather to come, the lead into Spring is always full of hope, excitement and anticipation of the seasons ahead. For us here at Sprout, our work really ramps up between now and Christmas, with so many of our annual projects happening in Spring and Summer.
It has been so satisfying seeing the fruits of our labour on the online learning management system project, with the launch of The Hub happening last month. This online platform enables us to significantly grow the number of producers we can support throughout the state, and we know that the work that exists in this space is only the beginning. We want this to be YOUR space, the place you know you can come for peer-to-peer conversations, education material, resources and more. We encourage you to get in touch with us with any ideas you may have about how we can improve it, and build on what we have uploaded to date.
Being a small organisation, I have the pleasure of working very closely with the volunteers who make up our Sprout Board. I would like to take this opportunity to say thank you to three board members who have stepped down over the last few months – Larna Pittiglio, Tim Russell-Jarvie and soon Don Thomson who is retiring from the Board at our September AGM. You have all brought an amazing breadth of skills and passion to our organisation during your tenure and I have thoroughly enjoyed getting to know you all and working with you on the various projects we have. We wish you well on your future adventures, and we look forward to seeing you at future Sprout events.
At our AGM we will be introducing you to four newly nominated Board Members who will be formally supported into their new roles.
Kate Field
Barry Hemmings
Lauren Byrne
Libby Graham
Welcome to each of you! The breadth of skill set across these four individuals is astonishing and we feel very humbled that you have chosen Sprout as an avenue to share your skills and channel your passion for this sector. I cannot wait to get to know each of you, and work with you to take Sprout onwards and upwards to realise our vision of a sustainable, fair and robust local food system here in Tasmania.
Warm regards,
Jen.
in our paddock
There are a lot of updates to bring you from our paddock this season!
agm
We will be holding our Annual General Meeting on September 15th at Battery Point Hall, tickets cost $10 and are on sale here.
The AGM is your chance to hear what we've been working on here at Sprout over the last financial year. Meet our Board members, chat with fellow Sprout members and hear some insights from Leah Galvin, our guest speaker.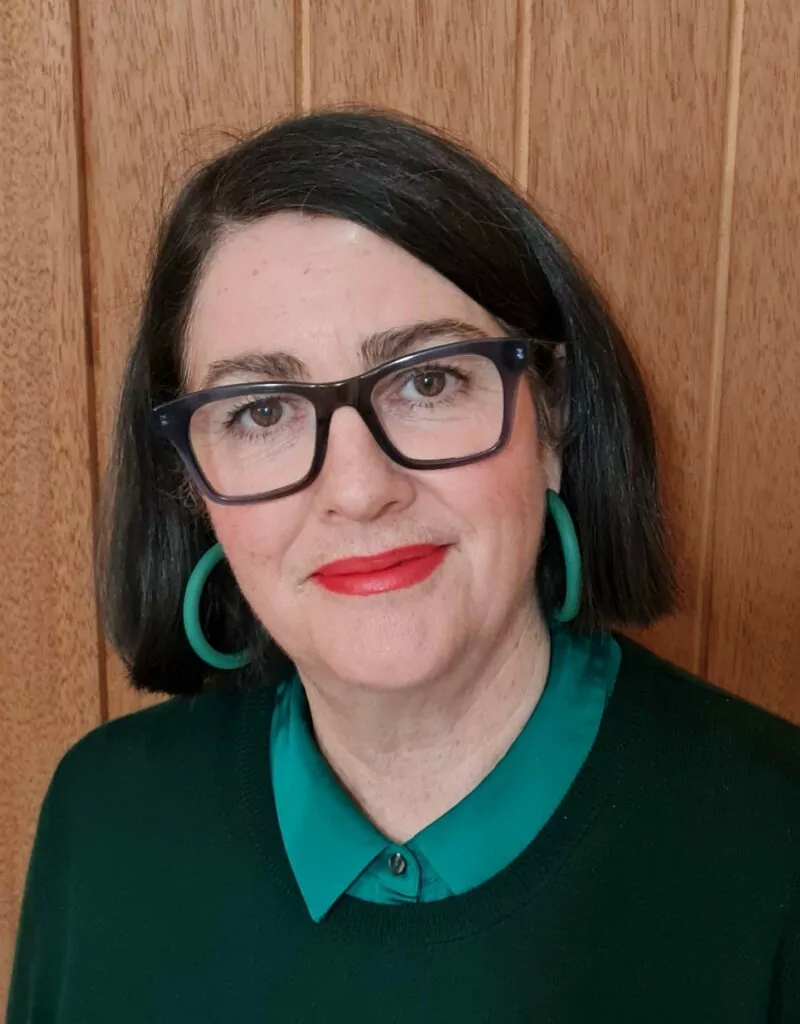 Growing Good – A celebration of produce and people
This is also a great opportunity to drop a little teaser on a brand-new event we are hosting. As you may have realised, at the start of the year we decided to separate our Cross Pollinate conference and the annual dinner. Cross Pollinate will now be held every year during winter, when producers tend to have a little more time to get off farm, and the dinner has been re-branded as (drum roll please) Growing Good! We are pushing it back slightly so that we can host a huge end of year celebration of produce and people, and we really hope you and the Tasmanian community get behind it. There are lots of irons in the fire and exciting things being planned, so keep an eye out for more details.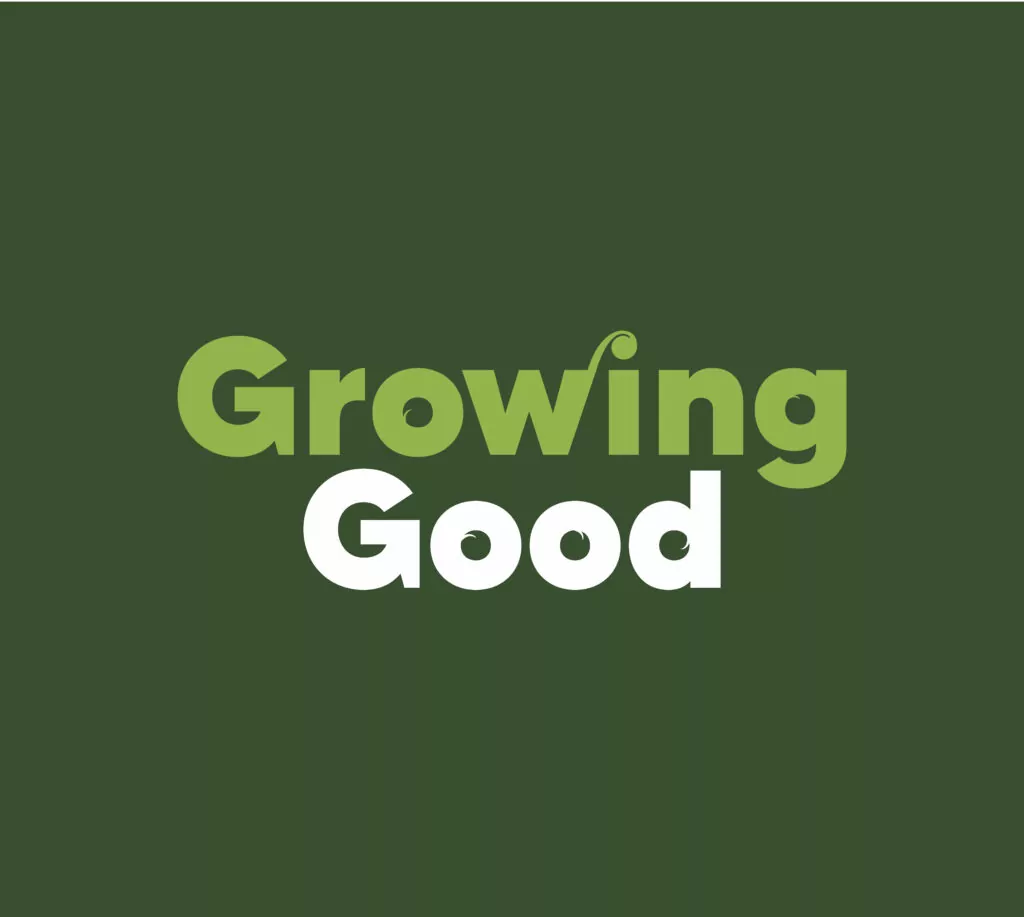 sprout producer program
As always, the Sprout Producer Program continues apace. It's been so wonderful seeing this year's group grow close, and at each catch up it becomes harder to stop them from chatting and concentrate on what Jen and Ollie are saying. And we love that! After a two month break from field days, we all met up again at Early Bird Farm where it was Jenna and Zeb's turn to host. Aside from the relentless rain we had a great day. The Cygnet Town Hall kept us dry and warm as Libby Graham from South Arm Farm kicked the day off. In Libby's other life she is a hugely successful product manager and her insight into how we can use customer personas to better understand our customers and help target them was invaluable. We were then able to dodge the showers and take a quick tour of Early Bird Farm, and to hear how their decision to take the last year off to work on their house and the infrastructure on the farm has paid dividends. Jenna and Zeb are now busy planning for the season ahead and it won't be long before they have veg boxes available again. If you're keen on subscribing to their CSA we'd recommend you get in quick!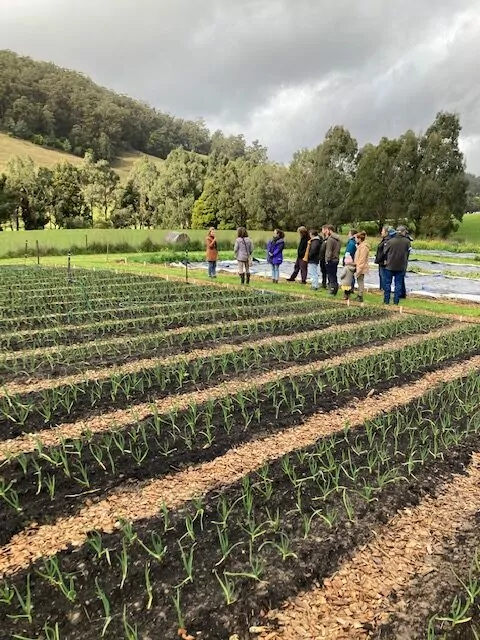 Jen and Ollie have just come back from a weekend in the north of the state, where on Saturday we held our long awaited and much delayed SPP 2021 graduation. After two attempts that were thwarted by Covid we finally caught up at the rather lovely Clarendon Arms in Evandale. After all the delays we opted for a casual afternoon to allow the group to essentially catch up with each other and talk about all things farming and non-farming. It was such a wonderful afternoon with an amazing group of people.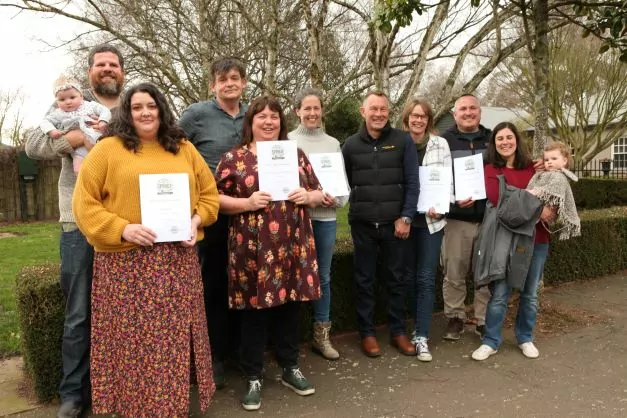 The following day Jen and Ollie had the privilege of taking two of this year's cohort, Jordan from Hillwood Fresh and Josh and Patreena from Westbae Pastoral, to visit Summerlea Farm. Liz and Rick were part of the 2018 SPP, and the support of Sprout made the call to change their business model and start selling beef direct to customers. As we sat around the fire pit, Jordan, Josh and Patreena were able to learn about the benefits this change has made, as well as hear some of the challenges they faced along the way. A huge thank you to Liz and Rick for your time!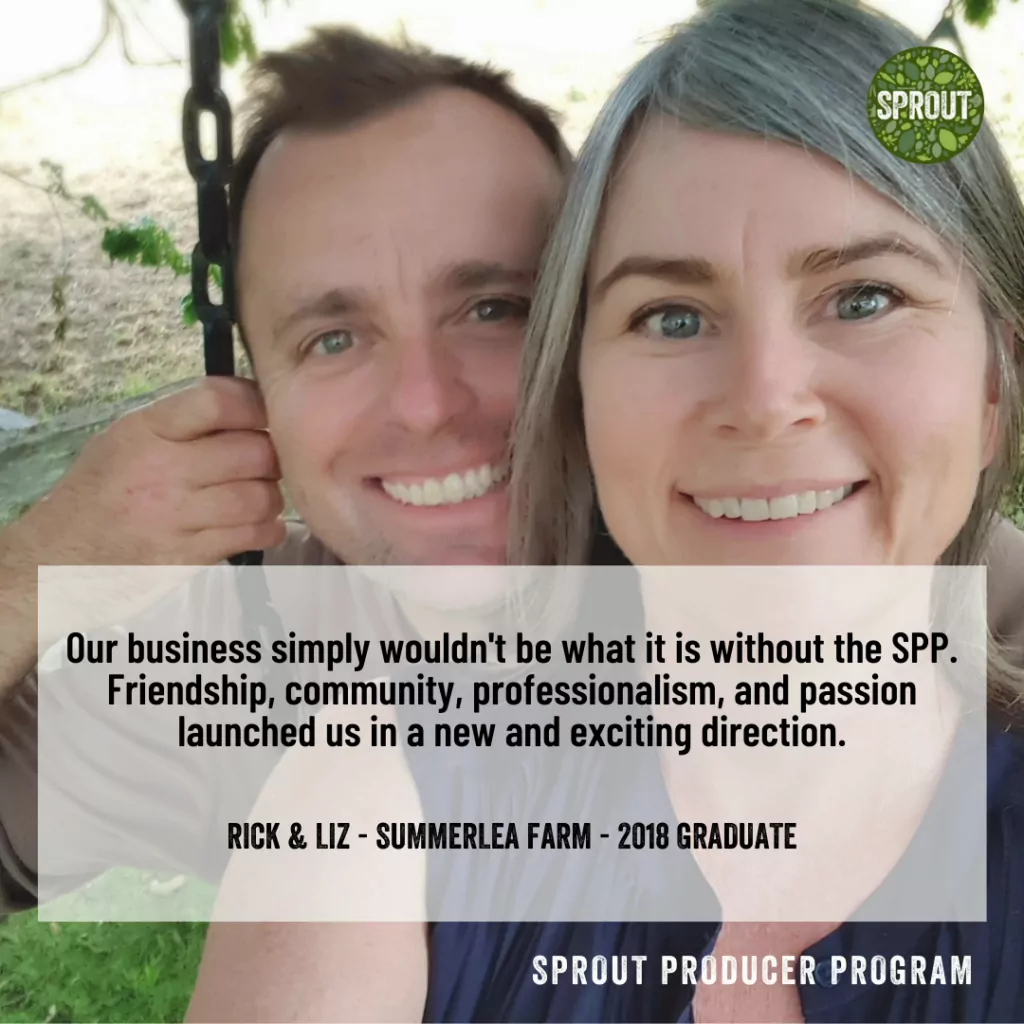 This brings us very nicely on to applications for next year's program. As the testimonial above illustrates, the SPP was instrumental in helping Rick and Liz. There are still a few weeks left to get your application in so if you've always been interested in what the program has to offer, or are planning to apply, don't delay! You can apply here.
small producer of the year award
On a recent crisp and misty Monday morning Jen and Ollie drove down to Geeveston to visit our current Small Producer of the Year winners, Matt Tack and Coreen Ung.
Our Mates' Farm sits proudly above the fog that lines the Huon River. As Matt and Cor walked us up the property through the orchard and up to the bush on top of a ridge where two of their large black sows, Wanda and Whitney were relaxing, we saw firsthand how dedicated Matt and Cor are to producing food, to supporting their community, and to ensuring their business can sustain itself and their family into the future. We discussed some of their challenges, from the rising costs of producing dessert fruit for large retailers to fertility issues of heritage pigs, listened to their plans for the future and marvelled at the magic of grafting. Matt and Cor are in the process of cutting back rows of their dessert fruit, underperforming Royal Galas, and grafting cider varieties on to them.
It's clear Matt and Cor think deeply about their business and one of the most striking aspects about them is their openness. Ever since arriving in Geeveston almost 10 years ago they've been keen to share their journey and what they've learnt, they are an integral part of the Huon Valley community, and you can feel the deep love their have for the land they now call home.
For all these reasons and more, Matt and Cor were worthy winners of the Sprout Producer of the Year in 2021. We left clutching some applewood from one of the trees they had been cutting back, ready to have it turned into the spoon that the 2022 Producer of the Year will receive as part of their prize. And as we asked them to pose in their rainbow Blundstone boots, the other part of their prize, we know they will be excited to hand over the baton, or in this case the wooden spoon, to whoever takes out the prize this year.
Inside the mud room of their home, at the top of a white board that listed an exhaustive amount of jobs, is a mission statement. 'To build a diverse farming enterprise that produces high quality, sustainable food with the highest standards of welfare for both the animals and us.' And if nothing else on the white board gets done, they can certainly cross off this statement.
Nominations for the Sprout Producer of the Year 2022 will open soon. Keep an eye out for more details on how to vote.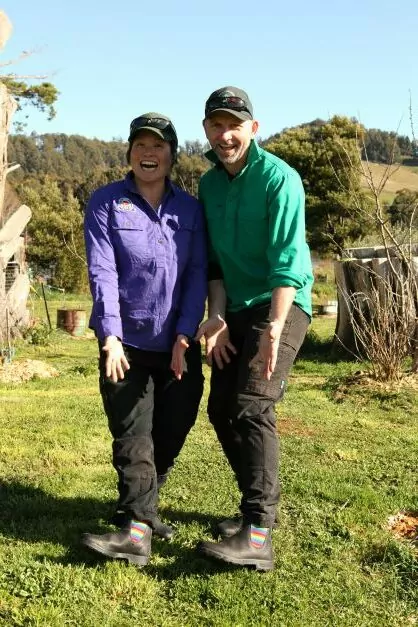 member news
A couple of weeks ago we officially launched the Sprout Hub. So, what is the 'Hub'?
Put simply, it is our online learning and sharing environment, where Sprout members can access useful on-farm and off-farm education material and resources including free access to nine of our core courses.
If you are a member, you should have received a welcome email inviting you to set up a password for the Hub, (check your spam if you didn't receive it, or get in touch and we will resend the email). Once this has been done you have access to all the fun stuff!
We have been speaking about the Hub a fair bit in our newsletters this year as it's been a big project for us. We are extremely proud of the vision we had for the platform and through it feel confident that it will help us reach and support more producers across the state. We would like to thank the Tasmanian State Government, who have supported this project through the grant Sprout received as part of the Strategic Industry Partnership Program Covid-19 Recovery program, and we give a huge shout out to Kings Digital for all their technical wizardry. Rik and his team have been amazing, and it's been a privilege to work with them.
market gardener institute partnership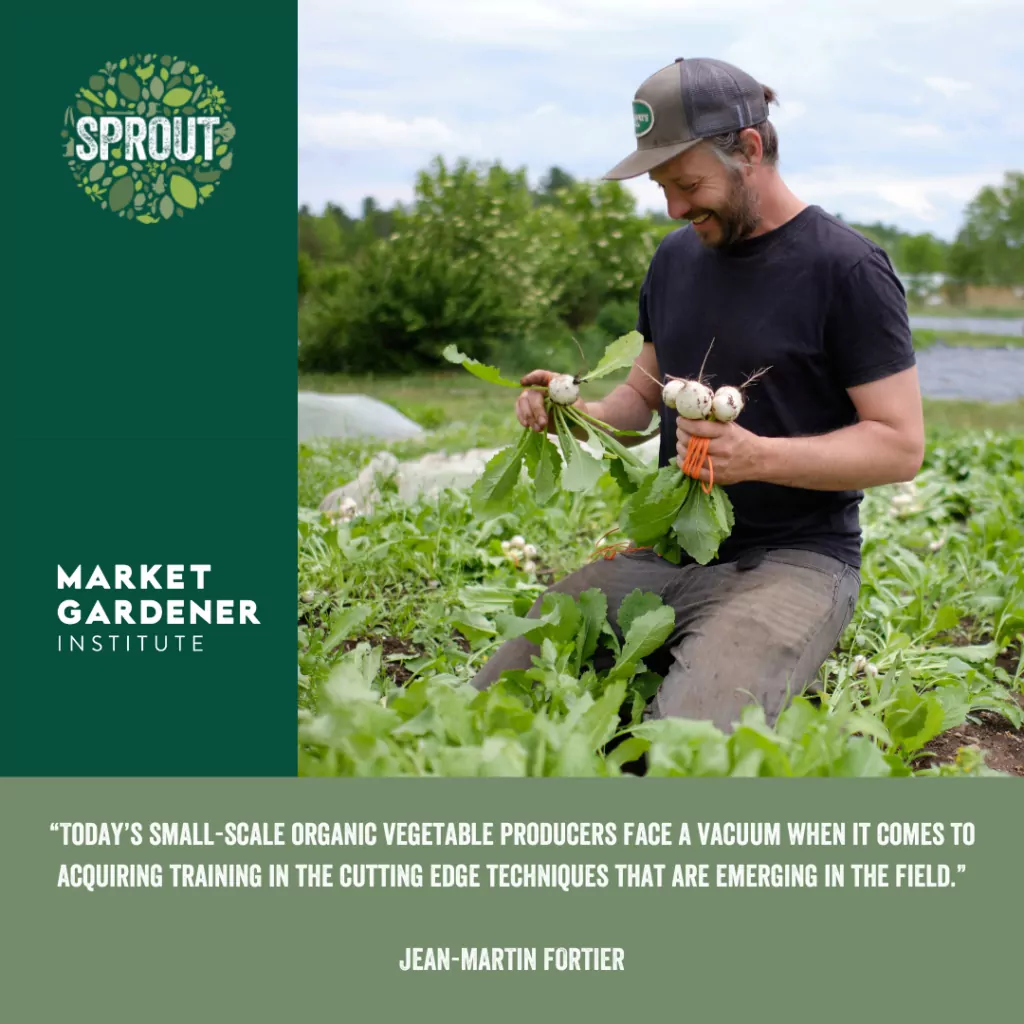 We are very excited to announce that we have partnered with JM Fortier's The Market Gardener Institute to offer our members special group pricing for their Masterclass this Spring. Register your interest directly with Sprout between September 1st and October 1st to receive an amazing 20% discount on their program.
This is a unique opportunity for Tasmanian growers, who will form a dedicated group for their self-directed online course. The Masterclass provides precise written and video instructions to give you the methodology, tools, and techniques needed to successfully grow crops and to take your market gardening to the next level.
As a special bonus the group will also receive a 60-minute Q&A with JM himself and you gain a lifetime access to the online Market Gardener community.
To take advantage of this you need to be a Sprout member and register your interest before October 1st. Once you have registered you will receive a unique link and code that allows you to book online directly through MGI. To register head to our member benefits page here and scroll down to find the registration form.
Your Community
flood recovery
As we mentioned earlier, southern Tassie was hit pretty hard with rain a few weeks ago. As we met for our field day in Cygnet, areas close by were being hit by floods including Scrubby Hill Farm in Geeveston. For those that don't know it, Scrubby Hill is a social enterprise farm and is home to Huski Greens. However after putting a call out they received an incredible amount of support and are pleased to announce they are back on track. Well done and thank you to all the volunteers and donors that helped with the clean up and rebuild, and to those that kept the team fuelled with coffee and food on the day.
Two Day Intro to Biodynamics with Charlie Arnott and Hamish MacKay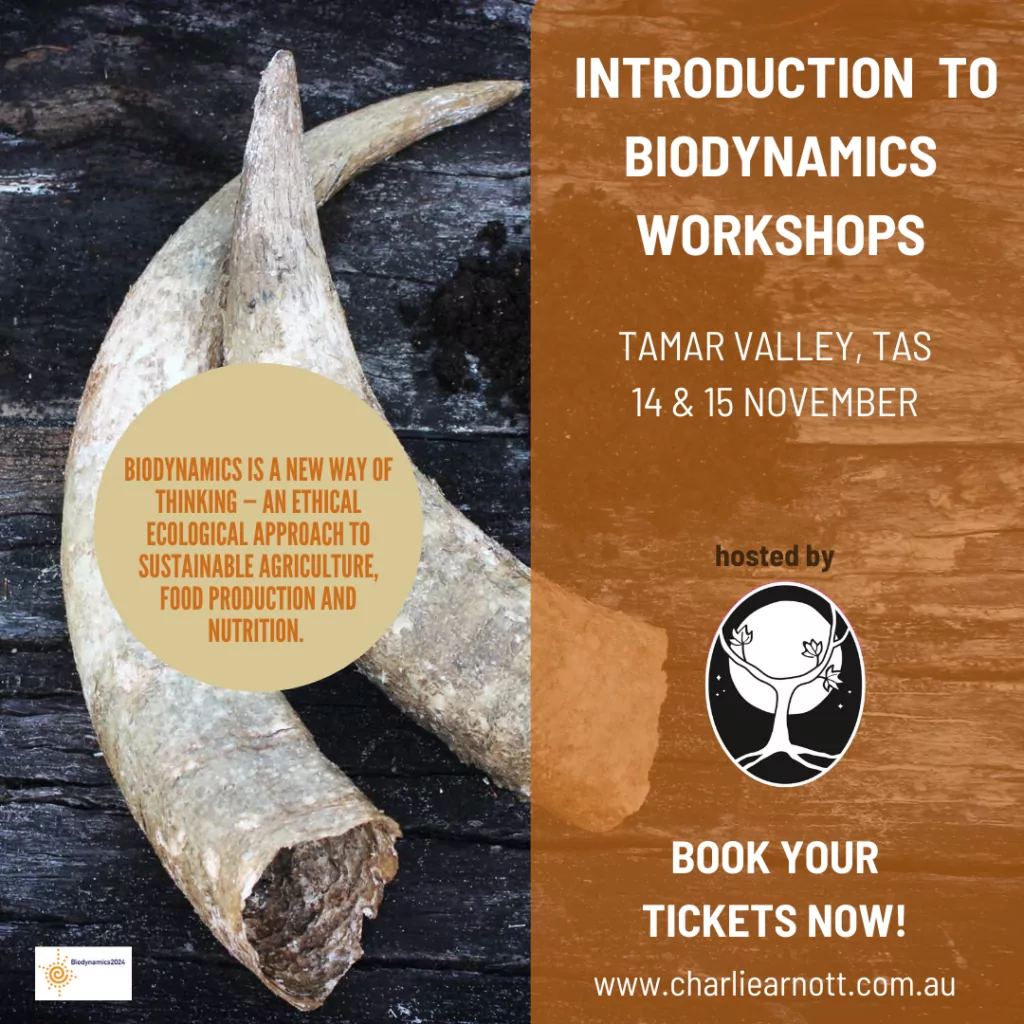 Charlie and Hamish are finally getting to Tassie! They are running a two day Intro to Biodynamics workshop in the Tamar Valley on 14th and 15th November, and the same workshop in Richmond on the 17th and 18th November.
Biodynamics is grounded in the work of Rudolf Steiner, inspired by questions, conversations, practical research and eight lectures with the title, The Spiritual Foundations for the Development of Agriculture (June 1924).
These introductory workshops bring together the art and science of biodynamics, the 'how and why' biodynamic preparations work, and the practical skills you need to start applying them as soon as you get home.
Tickets are available for the Tamar Valley workshop here and the Richmond workshop here.
What do emissions reduction targets mean for farmers?
A new emissions reduction target of 43% by 2030 is set to pass the Senate in coming weeks. The Australian Government has also noted their intention to sign onto the Global Methane Pledge, a shared goal to reduce global methane emissions 30% by 2030.
But what does that mean for Australia's farmers? What impacts, if any, should farmers be expecting?
Farmers For Climate Action will be hosting their next webinar, What do emissions reduction targets mean for farmers? and this is your opportunity to find out the answers to these questions and any others you might have about the new emissions reduction targets.
Join Farmers For Climate Action to hear from Polly Hemming, the Australia Institute, and Liam Walsh, Climateworks Centre, who will explain the impacts and opportunities of these policies for farmers. You can ask any burning questions in advance via the RSVP form.
What do emissions reduction targets mean for farmers? will be held at 12pm (AEST) on Wednesday 7 September via Zoom.
Revitalising Local Hospitality Venues Grant Program have opened
The Revitalising Local Hospitality Venues Grant Program provides one-off grants of $5,000 to assist Tasmanian hospitality businesses to implement initiatives, deliver projects or purchase equipment that will revitalise their venues and:
build capacity and innovate; or
assist with recovery efforts; or
assist with productivity.
There is a total of 150 grants available under this program and applications will be assessed against the eligibility criteria in order of receipt. You can review the program guidelines, FAQs and number of grants approved to date on the Business Tasmania website here.

Applications opened at 2pm on 1 September 2022 and close at 2pm on 30 November 2022 or when the funding has been fully allocated, whichever comes first.

If you have any questions about this program please contact the friendly team at Business Tasmania on 1800 440 026 or via email to ask@business.tas.gov.au.
dan palmer
Last but most definitely not least, we wanted to pay tribute to the wonderful Dan Palmer. As many of you know, Dan sadly passed away a few weeks ago. We had been working with him recently as he was due to host a workshop as part of this year's Cross Pollinate, and throughout our conversations his generosity of spirit, connection with the work we do, and the passion for his own work shone through.
Dan made a huge impact during his life, and through his work with VEG, Permablitz, Making Permaculture Stronger and Holistic Decision Making he has left an incredible legacy, inspiring and empowering so many people. Go well Dan.