The Dirt in Summer 2021
Summer is here, and we've put together a great newsletter this season with information about what we've been up to here at Sprout HQ, and also a heads up about other things happening in your local community.
Click below to read more. Photo credit to the wonderful Anna Brozek @anna.ontheground
Sprout Small Producer Award 2021
Every year we have more a more nominations for the Small Producer Award which is fantastic, we couldn't acknowledge and reward the great work of small-scale growers without these votes. The award is sponsored by Blundstone and we thank them for their long-term support of this award and Sprout Tasmania.
This year we were overcome with emotion reading the wonderful comments people wrote about their nominees. It's clear to see that Tasmanians value the hard work of small-scale growers and enjoy the outcomes.
"Broom and Brine grow some really amazing veggies, I'm a massive fan of their beetroot and for me their garlic is some of the best on the island. I love that they really try to be as environmentally friendly as possible, re-usable crates they leave with you, natural farming techniques. Plus, they're always happy to have a chat."
"Rosella Roost have worked extremely hard to establish a great product in a short period of time. Their eggs are above most of the eggs on the market. Their passion to look after the land they work on is also very important for us! Great costumer service!!!
"All their produce is amazing. Fresh, tasty and chemical free. Huski Greens are a committed to producing the best possible produce and it shows."
We were thrilled to congratulate Matt and Coreen from Our Mates Farm as the farm which received the most nominations for the community nominated Sprout Small Producer Award 2021.
Matt and Coreen are apple farmers in the Huon Valley. They are hard-working, generous, part of the community kind of people who would also quickly become your mates. We're so pleased these two have been recognised for the work they do.

We're pleased to share the following five amazing farms that were the runners-up.

Huski Greens
Rosella Roost

Matt and Coreen were awarded the wooden spoon by Felds Farm along with their prizes from Blundstone Australia at the Cross Pollinate dinner on Friday 12 November 2021.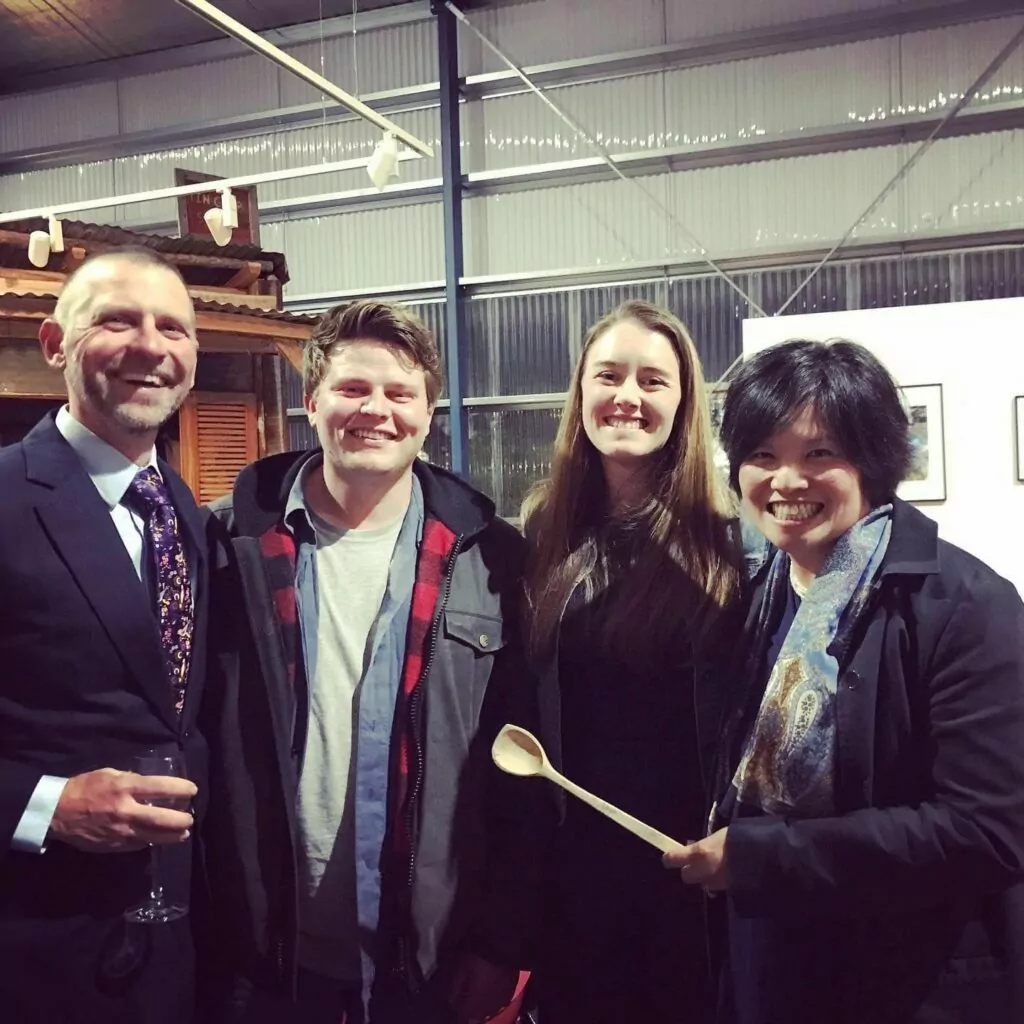 Welcome Stephen Peak to the Sprout Board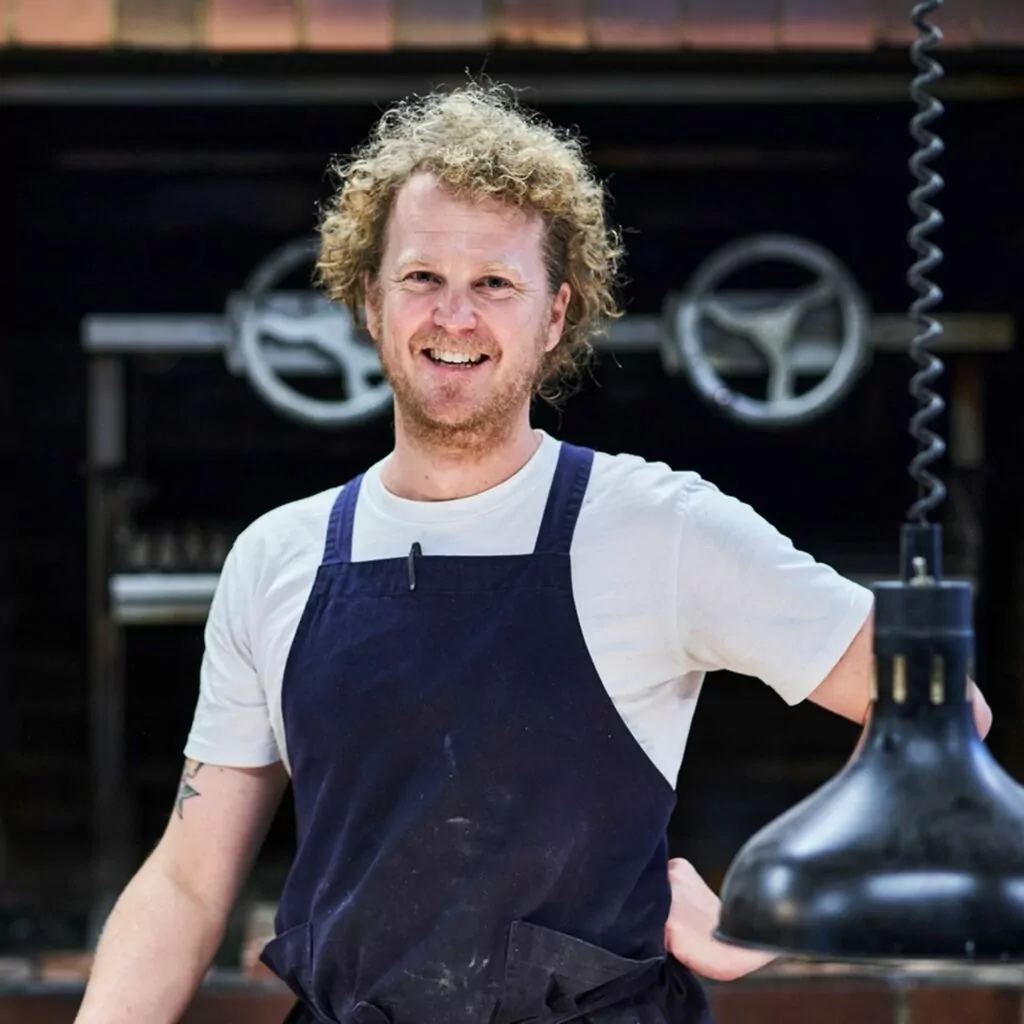 Stephen Peak, Head Chef at The Agrarian Kitchen & Eatery in New Norfolk has joined the Sprout Board as of November this year. We are thrilled to have Stephen as part of the team, as he brings a wealth of knowledge of Tassie's local produce from working with it in the kitchen at the Agrarian. Stephen also works closely with Mitch Thiessen the Head Gardener at the Agrarian, which is a wonderful relationship between grower and chef, where they can learn from each other, plan what to plant and really be connected with the full cycle of food production. Welcome to the team Stephen, we are thrilled to have you board! Your expertise and support is very much appreciated.
A full bio will be on our website soon, for those of you who don't know much about Stephen.
Cross Pollinate 2021 Day Wrap Up
On Friday 12 November 2021 old and new Sprout friends attended Cross Pollinate 2021. This year we got back on farm and experienced all the weather conditions along with amazing people presenting, connecting, and learning.
The day began at The Early Bird Market Garden, where Zeb and Jenna opened their farm and shared their story and plans for the future. It was an engaging session which drew many questions and conversations.
"It was fantastic to see a working market garden, including parts that are changing or not working as hoped. Jenna and Zeb were incredibly open and generous with what they shared which added to what we could learn."

The next stop was The Port Cygnet Cannery who were outstanding in providing us with not only delicious food and drink but an amazing space for our panel discussion.
Franca Zingler from the management team at TPCC was our wonderful host and facilitator of our panel discussion.
Our panelists Sulyn Lam (sulynsgarden), Kate Plaschke (eska.farm ), Grace & Dylan (broomandbrine ), and Rich Butler (Glen Huon Dairy) who wholeheartedly opened up and shared themselves as growers and people.

"Informative and powerful stories about people's journeys into sustainable agriculture."

After connecting over delicious seasonal pizzas cooked by Lachlan Colwill and his team, we headed to Beaupre Farm and Cottage for the workshops.
Chris and Colin generously opened up their farm and provided a dry space for our soil workshops. Chris led a session on 'Microbiology of Soil' and Colin led a session on 'compost teas.' They were joined by Matthew Evans from Fat Pig Farm who discussed 'Soil' the topic of his recent book, Mitch Thiessen (@agrariankitcheneatery ) and Tony Scherer (@heirloomtony ) who ran a session called 'Compost 101'.
Despite the drastic change in weather the sessions ran well and were enjoyed by all. We are so grateful for the opportunity to collaborate with these people this year.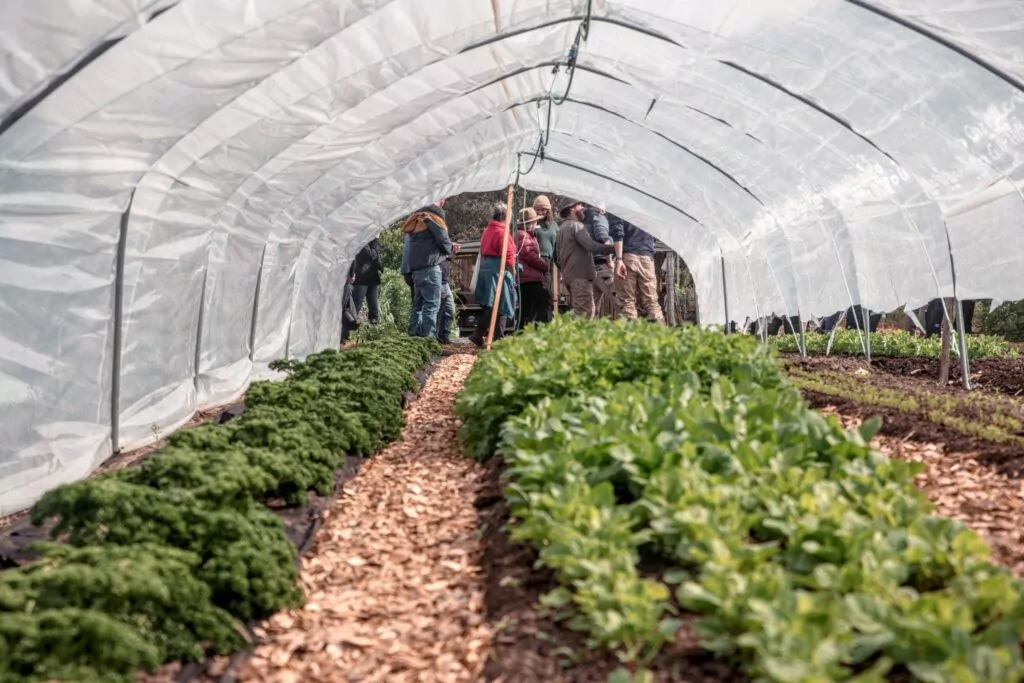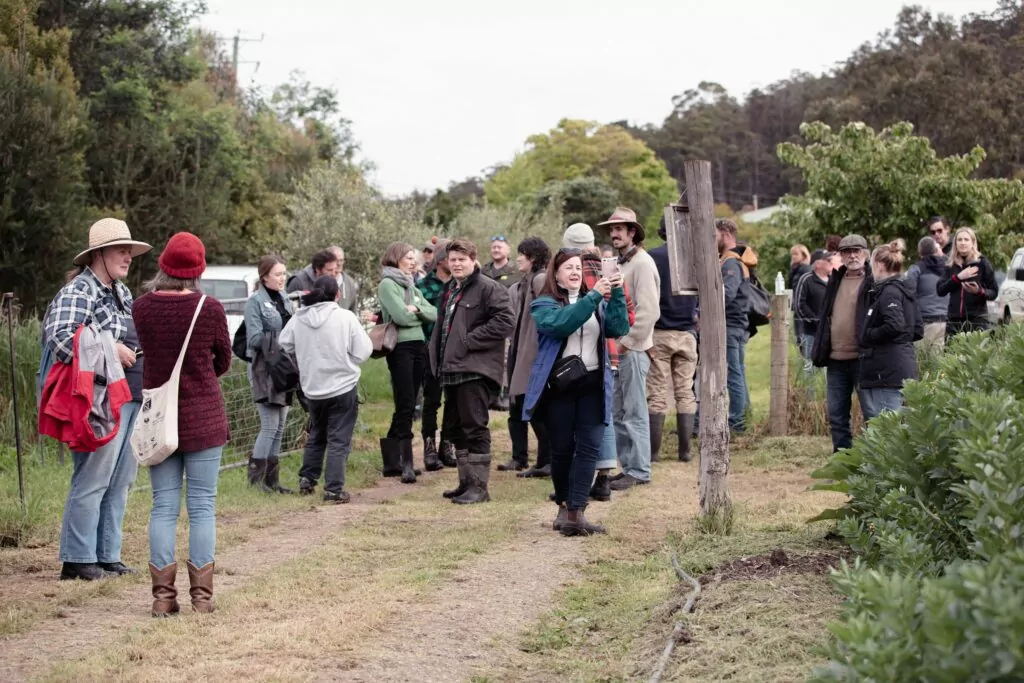 Photo credit: Anna Brozek @anna.ontheground
"Informative. Wetted the appetite for more knowledge. Beaupre Farm and composting showed the 'meat on the bone'."
"Wish we had a bit more time! So much material to go through and definitely keen for further workshops."
Cross Pollinate 2021 Dinner Wrap Up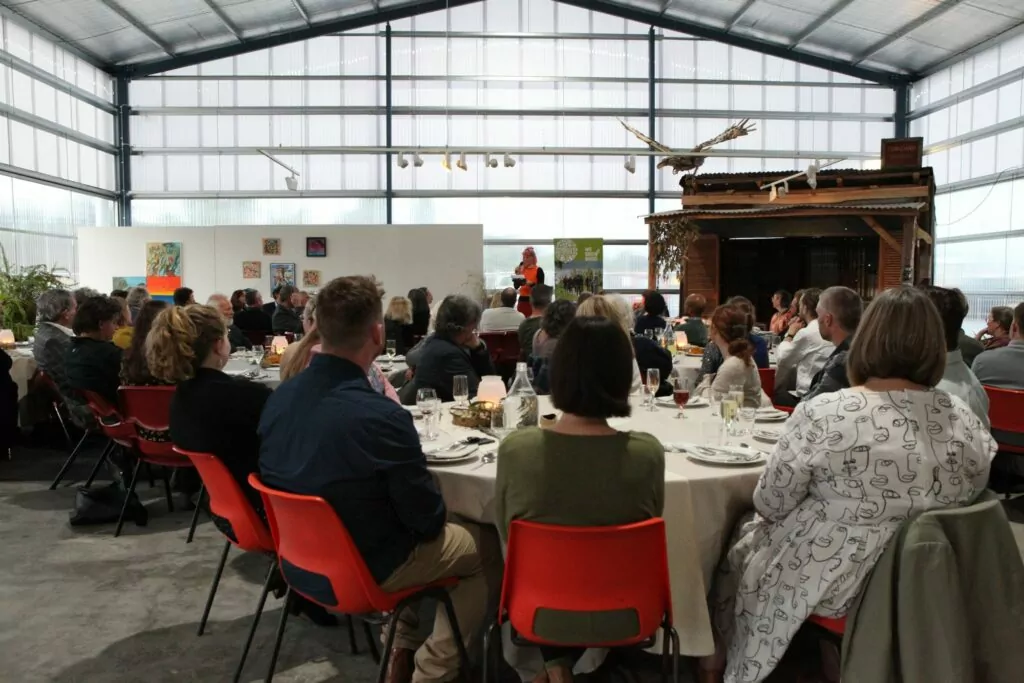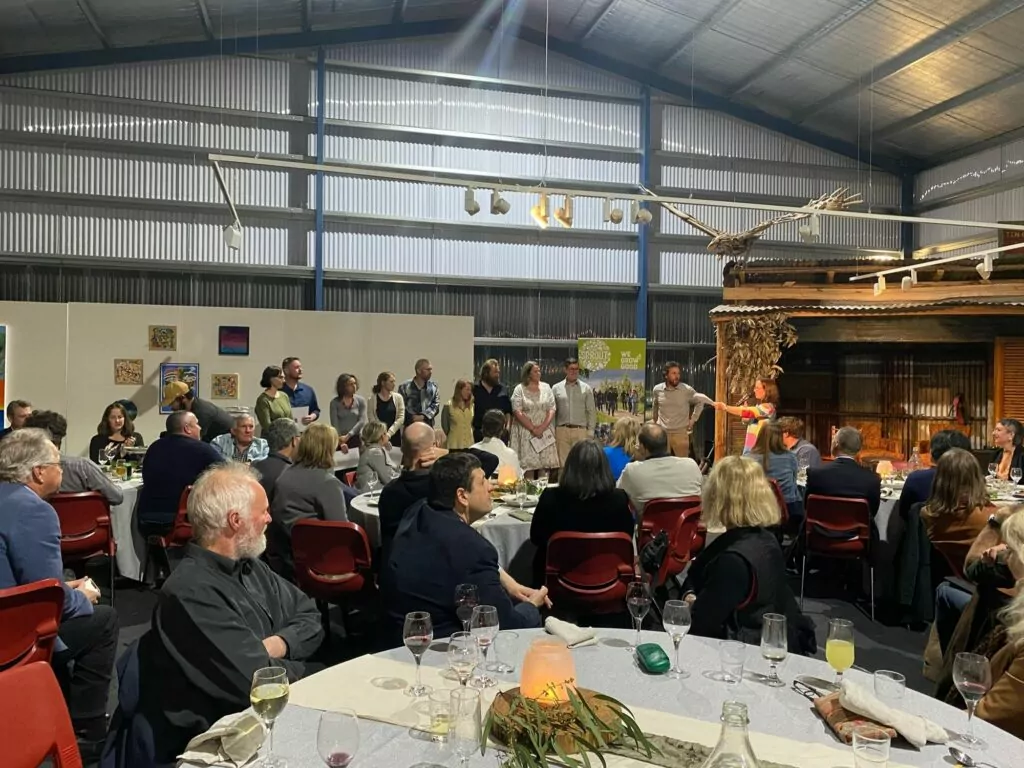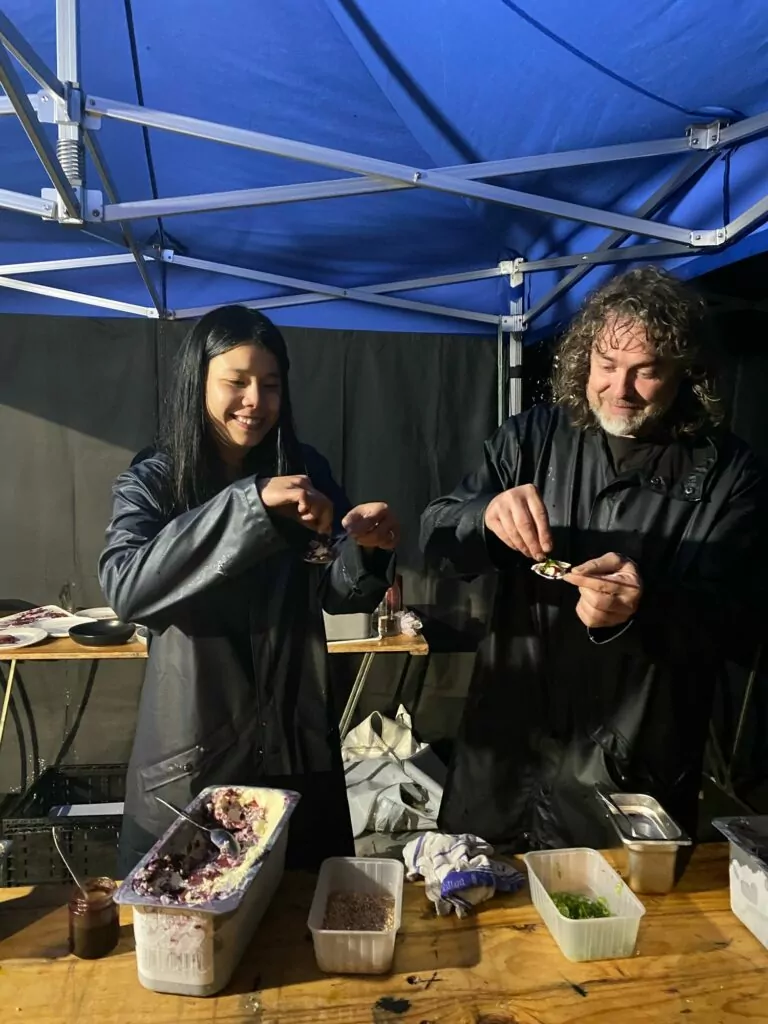 The heavy rain continued into the night of Friday 12 November but that didn't stop 80 something people getting together at the atmospheric NAYRI NIARA to celebrate Tassie's small-scale producers.
Polly Mcgee carried us through the night with her infectious energy, Hannah Maloney Goodlife_Permaculture inspired us, Lauren and Mike from Felds Farm moved us, and Matt and Coreen from Our Mates Farm gave us that warm fuzzy feeling deep in our tummies which were full of the magical flavours created by Adam James Rough Rice.
We listened to the beautiful sounds of Madelena and Naarah, shared our stories, connected, and met the 2022 SPP cohort.
It was a truly amazing night made possible by all the people above, alongside all those who attended and our sponsors.
Cross Pollinate 2021 Feedback Survey
At Sprout we're always wanting to learn and grow with our offerings. If you joined us for either Cross Pollinate event, we'd love to hear your feedback. The survey takes around 4 minutes, we thank you in advance for your time and support. Click here to find the survey.
If you didn't join us for Cross Pollinate this year but you have some feedback on the way we do things, we'd love to hear from you. Please email office@sprout.org.au
Growing Good Christmas Appeal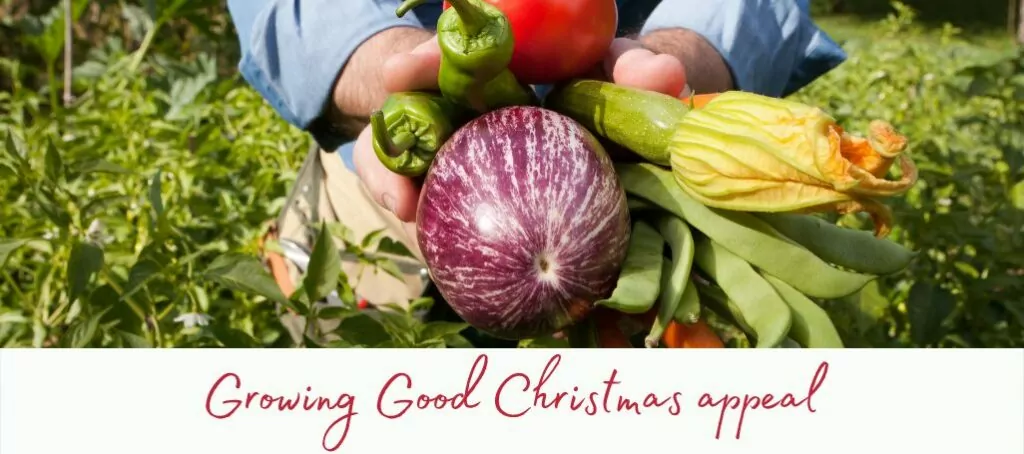 Do you like the idea of helping Sprout to support more Tasmanian small-scale farmers?
Sprout is a not-for-profit organisation that relies on volunteers, donations, and sponsorship to continue its work in supporting and empowering Tasmanian small-scale farmers.
This year if you're struggling for gift ideas, how about donating to Sprout on behalf of your friends or family. You'll receive a downloadable card you can present to them PLUS your name will be entered into a draw to win one of two prizes that have been generously gifted to us from the Federal Group.
The prizes are:
🌱An accommodation voucher for @thehenryjones valued at over $300
🌱A dinner voucher for @peacockandjones valued at $150
Be a part of the solution to our climate crisis, through investing in your local food system in Tasmania. Donations can be made between 14 – 23 December via this link.
Sprout Producers News
Karoolalla Field Day – last for 2021 SPP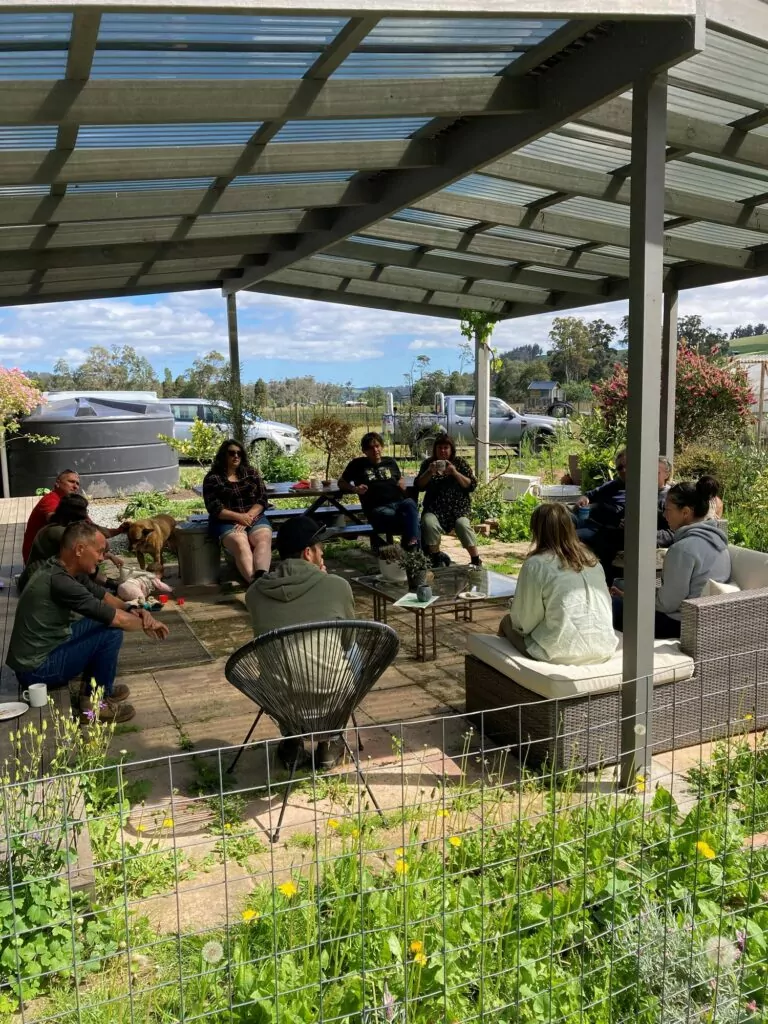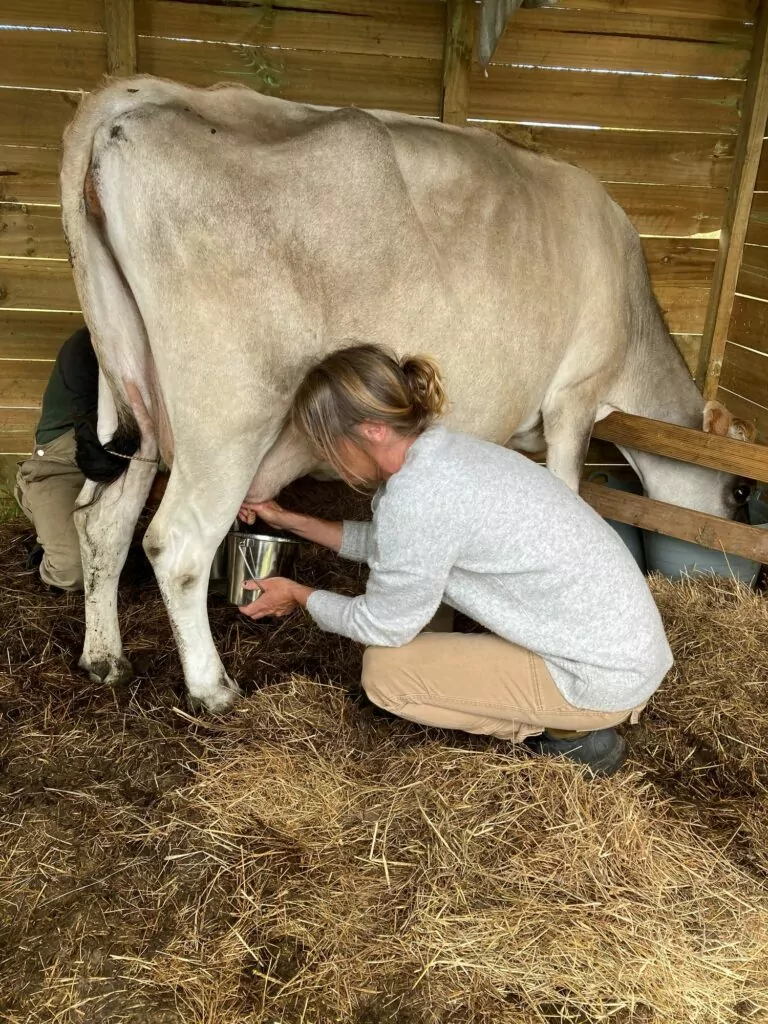 On November 27th we finally landed at Karoolalla Farm for our last field day of 2021. The snap Covid lockdown several weeks ago had temporarily delayed the event, but perhaps this was a blessing in disguise as we were able to swap rain, mud and the cold for warm, golden sunshine!
We had a fantastic morning experiencing firsthand the incredible work Cate and Rupert of Karoolalla Farm have been doing in creating a multi-enterprise farm. We met their chickens, cows, and sheep, marveled at the infrastructure Rupert has built (especially the henabagos!), and gushed over their market garden which is thriving despite all the challenges Spring has thrown at them. During the coaching session, we discussed how they can move on from their 'establishment phase' whilst realising that in many aspects they already have.
We spent the afternoon at Fork It Farm where Kim and Dan shared their story about how they said 'fork it' to their lives in QLD and became pig farmers and on-farm butchers in Tasmania. It's no exaggeration to say that they are two of the most inspiring producers in our state and that their dedication to farming, butchery, and charcuterie is unrivalled.
To celebrate the last field day of 2021 appropriately we ditched our Blunnies and headed to the Grain of the Silos for a delicious meal and an absolutely perfect end to the year.
We thank SPP 2021 for being such a wonderful group of engaged, enthusiastic and dynamic producers.
We also thank everyone who contributes to the success of SPP and in helping us support Tasmanian farmers. Supporting Sprout can look like – being a mentor, a guest speaker, a volunteer, a member or sponsor, and of course a customer.
Learn more about supporting us on our website.
Sprout Producer Program Recipients 2022
We had our largest ever number of applications this year, which made the selection process a difficult one. However, we narrowed it down to six farms and are thrilled to officially announce the recipients of the 2022 SPP scholarships go to:
Patreena and Josh from 'Westbae Pastoral'
Luke and Melissa from 'Springdale Farm'
Jordan from 'Hillwood Fresh Food'
Nick and Coral from 'Rise & Shine Farm'
Christie from 'Old Orchard Farm'
Jenna and Zeb from The Early Bird Market Garden
Keep an out for more information about these lovely people early next year.
Our Community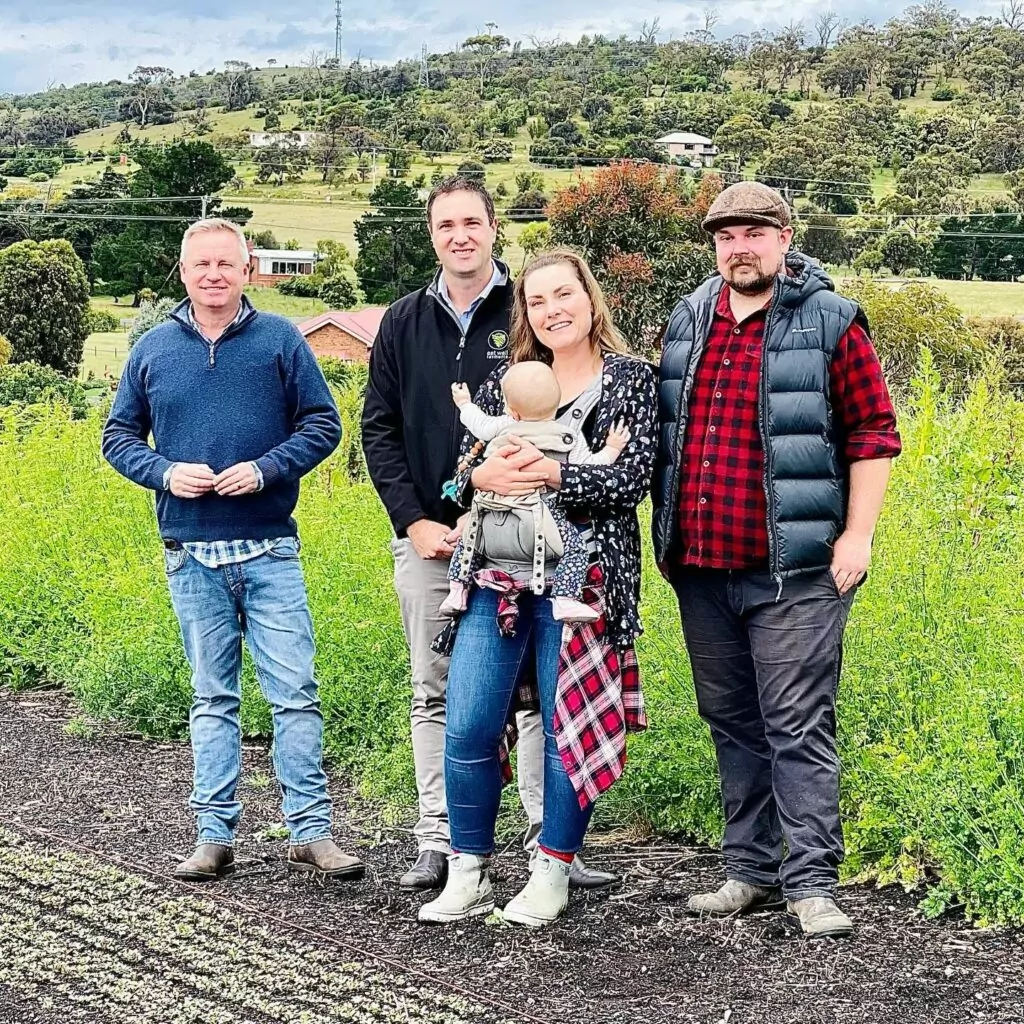 Eat Well Tasmania Producer Directory
Eat Well Tasmania launched their Producer directory on Tuesday 7 December at the Huski Greens farm in Sorell and we were thrilled to join them.
Eat Well Tas has developed this directory to support all Tasmanians to source seasonal, local produce and make healthy food choices. The directory also highlights the many amazingly skillful producers Tasmania has to offer.
So, whether you're staying home or travelling around Tassie during the holiday period, check out the producer directory to source fresh, local, delicious produce.
Well done EWT team, this is truly an amazing gift to all.
Rocky Top Growers Collective
We are loving the latest development at Rocky Top Farm where Sprout's patron Tony Scherer now has a fabulous gang of market gardeners at his farm – The Rocky Top Growers Collective! Nadia, DC, Monica and Tyler are doing wonderful things and if you've eaten out in Hobart recently there's a good chance you've been tasting their vegetables! On top of this, Lauren and Mike from Felds Farm have a crop of potatoes growing there – look out for their pink eyes at Harvest Market.
WorkSafe Tas free advisory Service
Have you revisited your COVID safety plan recently? Given this is an ever-changing landscape, WorkSafe TAS have a COVID safety team that are there to help you navigate this on your farm and in your business.
They are offering a free advisory service to come to your place of business and help you identify risks, consider changes, look at your plan and give you advice about updating any steps you may have listed in that plan.
Head to this website – Advisory Service to find out more, and to register your request for a free advisor to visit your place. You have a duty of care to your customers, staff and visitors, to make sure you are doing everything you can to keep them and you, safe.
What's On
Tasmanian Tase of Summer 2021

The Taste is back at PW1 and it's more Tasmanian than ever! This year, from Tuesday 28 December to Monday 3 January, we're bringing together over 80 of the finest local eateries, breweries, distilleries and wineries.
Tasmania's Taste of Summer is a ticketed event. Limited pre-sale tickets are on sale now https://tasteofsummer.com.au/
Keeping us Busy | Planning for 2022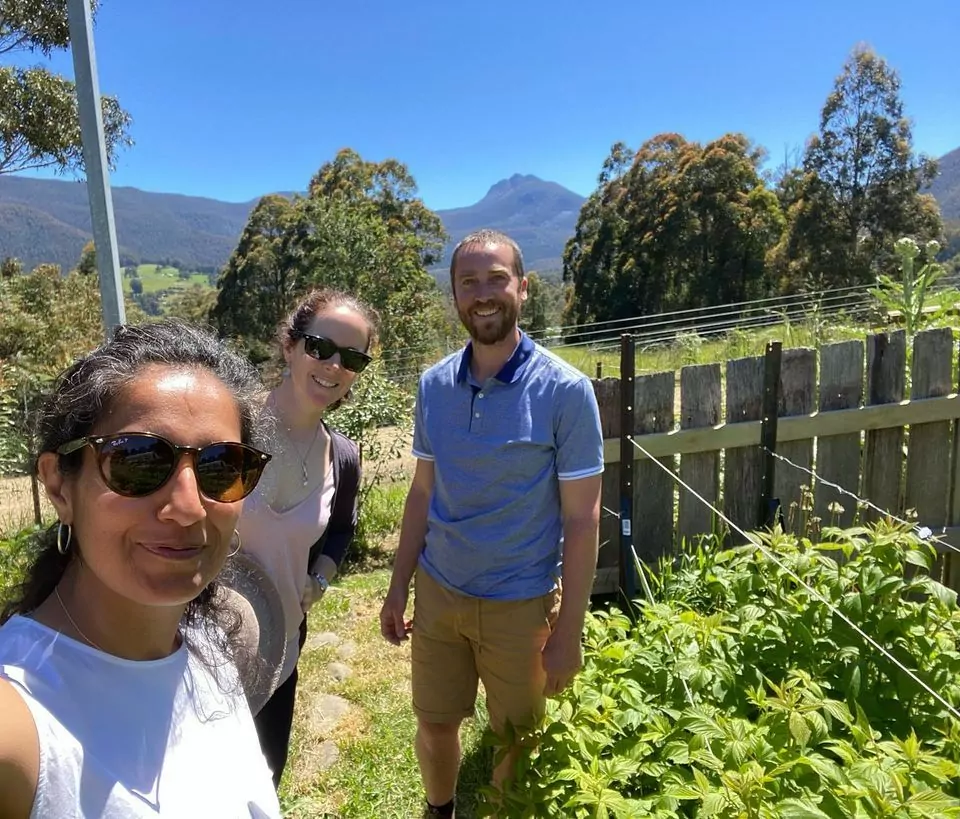 As the year comes to an end, the Sprout team have been busy analysing survey data, feedback and other learnings from the year alongside the Sprout 5-year Strategic plan to guide and inform 2022 planning. Watch this space for announcements on 2022 happenings.  
Online Learning Management System Project
As part of the State Governments SIPP grant round in late 2020, offering support for projects that assist in COVID recovery for the state, Sprout submitted and was successful in gaining funding to support digitising all our education units and also building an online learning management system through which people will access these courses. We were thrilled to gain this funding, as we will be able to broaden our reach of small scale producers and be able to offer them the support and knowledge that they need to further their farm and farming business.
The project is in progress now, with our platform being built, and the team at Sprout working hard to review and update all the units that currently sit in our suite of topics which support learning in both on-farm and off-farm skills.
Watch this space, as we hope to launch this platform towards the end of the first quarter of the 2022 calendar year!